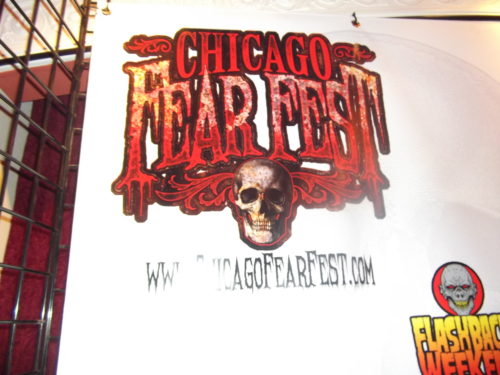 Going into Chicago Fear Fest, I had no idea what to expect. This was my first horror film festival and my nerves were shot. In the fact this was also my first horror film festival as a filmmaker. Our film TEDDY was to be screened at 4:30 on Friday the 13th in theater 13. This all had to be a good sign, right? I mean, it's a horror movie playing in screen 13 on Friday the 13th?!?! How amazing is that?!?! We got to the Muvico Theater ahead of time to get our badges and gift bags. The gift bags from Fearnet were something that I was not expecting. Not only were they screening our movie on the big screen but they were giving us free gifts! I felt like a small town celebrity and it felt seriously great.
When we got to the theater we were scared to see an empty theater. Thankfully there were about a dozen people in the theater ready for the show to begin. Mind you, this was nearly an HOUR before the movie was to begin. These people in the theater were waiting for OUR movie! It felt surreal in the very best way possible. Words simply cannot describe how I felt. We sat in our seats and waited patiently for our movie to start. 4:30 comes around and our movie begins, there are now about 20 people in the theater. Not exactly the best turn out but I sure as hell didn't care. I was seeing our movie on the big screen and seeing it with even one other person would have been fine with me.
Well, we get less than a minute into our short when the movie stops. "Oh no!" I thought to myself, this is not a good sign. They spent a few minutes figuring out the "technical difficulties" and during this time at least two dozen extra people walked in to find their seats. It was like a miracle! We doubled our audience through a mere "problem" that was out of our control and the film started up flawlessly. The audience laughed at all of the parts that have always worked and at a few new places, cringed during the deaths, and seemed to be having the time of their lives. The credits rolled and we received a tremendously applause. It couldn't have gone better if we asked.
Throughout the next two days we tried to catch as many movies as possible. Many were quite excellent. I especially enjoyed Patrick Rea's "Nailbiter", a well acted, tense study of a family trapped in a cellar during a storm. Also quite good was "The Keeper", a beautifully shot supernatural tale of payback. All in all, I enjoyed all of the films to one extent or another and just had a blast watching other filmmakers work their magic with the genre they love so much.
Of course, I MUST mention the highlight of the entire experience, Adam Green (Hatchet, Frozen) and Joe Lynch (Wrong Turn 2). Never in my entire life have I witnessed two more down-to-earth horror celebrities talking about how much they love the genre. Being able to watch Hatchet 2 as well as their hit new Fearnet show "Holliston" on the big screen was just icing on the already perfect cake. They gave me some pointers, some laughs, and were just incredibly sincere. Loved those guys!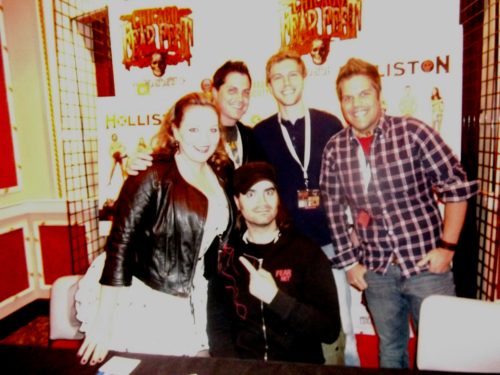 The night ended with the after party in which we mingled with other filmmakers and horror fans. We were shocked at the response to "Teddy." All night long people were telling us how much fun they had with the movie and how much they would love to see the short made into a feature. Meeting other filmmakers who loved and appreciated our homage to the slashers of the 1980s was just an absolute thrill. There wasn't a single negative response and we gave out screeners like they were hotcakes. It was seriously insane. This little tiny slasher that took two years to make and was banned on an entire campus was being enbraced with open arms. Thank you everyone who attended the Chicago Fear Fest for making this weekend one of the best in the entire life.