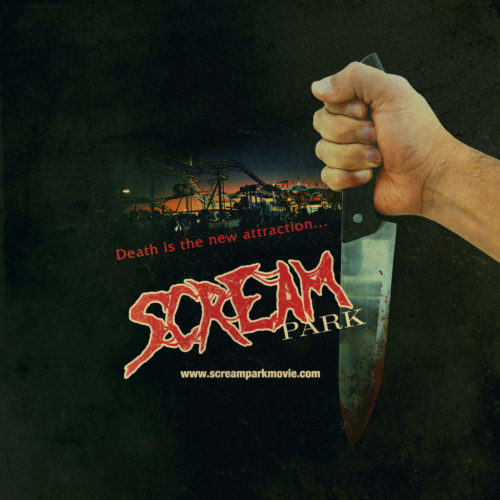 Two things I love in life: horror movies and theme parks. With that being said, as I head of the story behind Scream Park, I could not wait until my chance to view this film. The plot sounded fun, the running time was a solid 85 minutes and yes, I loved the title.
Scream Park takes place at Fright Land, the under performing theme park that is forced to close due to lack of attendance. The employees of Fright Land plan to throw one last party at the park after the gates close for the final time. The booze is flowing, the girls are putting out and oh yeah, the villains are killing!
The film had a nice look. The color tone is perfect for the film and the cinematography is decent, but the believable acting is what this film lacks. The acting isn't atrocious, but some casting improvements could have been made. Perhaps a greater casting search could have benefited the film. Some of the roles are dull and boring and lines seem to flow a bit unnaturally. A few of the cast members did however do a great job, including the park owner (played by the outstanding Doug Bradley, otherwise known as Pinhead from the "Hellraiser" series).
The deaths and effects are well done and my personal favorite is the deep fryer death. I do wish the the story had a bit more going on at the beginning, but the last half was better paced as the killers began to pray on the employees and chase after our final girl. If you like horror movies and theme parks then this is a film to check out. It won't "wow" you, but I feel the story is fun and unique enough and as we all know, indie horror can always use the support.