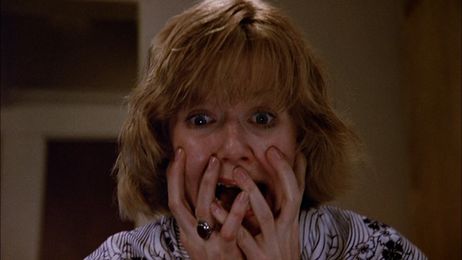 Adrienne King found horror fame in 1980 as she starred in the original Friday The 13th. As the first final girl in the popular franchise, Adrienne King played the role of Alice Hardy. Alice was a young, yet strong girl who took on the crazed Pamela Voorhees, played by the equally crazed Betsy Palmer. With one swift swing, this final girl was catapulted into horror lore.
Having been in the first two Friday films, it's difficult to talk about 80's final girls without speaking of Adrienne King. With her mop top haircut and soft spoken charm, Adrienne showed that even the most unsuspecting girl can become a fighter when backed into a corner. Although she didn't quite make it through the second installment of the series, her quick cameo made for a nice beginning to the film.
Today, Adrienne can be found at film conventions where she will gladly sign an autograph and talk to you about pretty much anything. Having personally met her at a convention in Chicago, I can safely say she is one the nicest people I have ever met. Willing to not only answer your questions, but to keep the conversation going is something rare refreshing. And with a new wine passion, Adrienne has set up Crystal Lake Wines. With a variety of wine to chose from and a very cool label, these are a must taste for the truest of Friday fans.
Here's to you Adrienne King! You gave us a strong final girl and a new reason to play a Friday The 13th drinking game. Can't wait to see you at the next convention. Cheers!