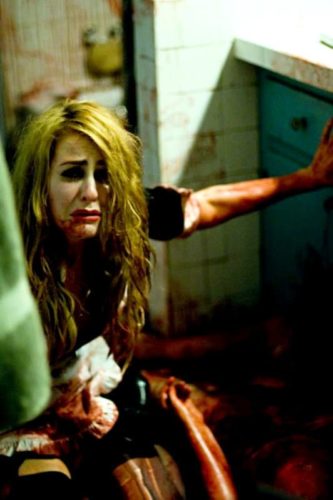 Hands-down the most underrated and one of my personal favorite Scream Queens around is the lovely Scout Taylor-Compton.
Taylor-Compton first made her horror debut in the 2006 zombie film Wicked Little Things where she starred alongside Chloe Grace Moretz. She played teenager Sarah who gets one of the creepiest scene in the film in which zombie children attack the car she and her friends are in. It also here where we get to hear that the girl can in fact scream, and quite well.
It was one year later that she scored her first major theatrical role in Rob Zombie's Halloween as the new Laurie Strode. It this performance that divided viewers. Fans of Carpenter's original film blasted Taylor-Compton's portrayal and often refer to her as "annoying" and even "stupid". However, the point people are missing is that this is in fact a reimagining of the story and is completely updated. Even our lead girl. Taylor-Compton plays Laurie as the good girl with a little attitude and silliness to her. In today's society, this Laurie is much more relatable than Jamie Lee Curtis' Laurie, and Scout nailed the role. Once again revealing her excellent scream.
In 2008 Scout starred in the unbelievable bad April Fools Day remake. The film was awful through and through, as was its acting. However, some may that Taylor-Compton was the film's only saving grace as the character Torrance. While it wasn't a solid performance, she worked well with what she did and had the only interesting role compared to the rest of the cast.
Coming back to the big screen in 2009, Taylor-Compton reprised her role as Laurie Strode in Rob Zombie's Halloween 2. Of all her horror films this one stands out as her best performance. We now see Laurie completely mentally damaged after the events of the first film. She's completely changed as a person, she's now become full of anger and hostility, and has constant nightmares that deprive her of sleep. She lashes out at Annie and Sherriff Brackett, the two people she only has in her life. Scout completely blows viewers away as the polar opposite as the innocent and happy character we saw her portray in the first film. It is being able to perfectly show this transformation that proves Scout's range as an actress.
Taking a break from horror for a couple of years, Scout starred in the 2011 film 247 Degrees. She played a young woman who survived a horrible car crash that took the life of her boyfriend. Following this she now has a major case of claustrophobia. Her fear is tested when she and friends become trapped in a sauna with the temperature gradually rising. Scout showed this character's fear of the enclosed spaces, but also the fear of the change in her friends as tension begins to rise.
As of right now, Scout has no current horror projects coming up. However, one film of her entitled 7500 in which she portrays a grungy character who finds herself trapped on a plane with some deadly spirits, is currently is film purgatory after having an initial release date back in August 2012.
Scout has the perfect qualities of a Scream Queen, she's true to the genre, she's cute as hell, gets totally into character, and can most definitely scream.
–Cody Landman