As many of you know, we at Slasher Studios have been hard at work this last year on our very first feature, Don't Go to the Reunion. With a release date just weeks away, we are thrilled to share with you slasher fans some reviews we have received for our slasher. We couldn't be more thrilled with the positive word of mouth. If you've seen it and dug what you saw, make sure to head over to the film's IMDB page and give it a rating and/or a review if you would be so kind. Here are some of the reviews we have received thus far.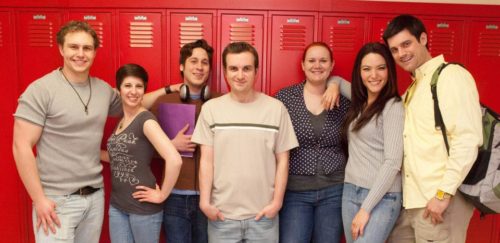 "The work of Goltz and Sommerfield will be a pleasure to watch in the future as their passion radiates in each shot of this film, lending to the sense that everybody was on board to get bloody, have fun and make a memorable, freaky and occasionally hilarious slasher romp. I'm not sure if I'll go to my 10-year high school reunion next year, but "Don't Go to the Reunion" is one event that you should definitely not skip!"
"The direction is tight and the script is top notch. Cinematographer Paul Bjorge delivers some highly effective and pretty inventive camera work (cool tracking shots, ace angles, beautiful static shots), the synth-driven score is excellently atmospheric, the kills are all badass and the gore looks simply ace. Oh, and there's even some nice nudity! *yay*"
"Wow. What a true love letter to the sub genre. The movie is absolutely rife with slasher movie references and fun nods. For example, check out the characters names; how about the bullied kid Scott Rantzen (Slaugher High?) or our lead girl Erica Carpenter (Halloween?) or even fun and spunky Megan Cunningham (Friday 13th?). The hat tipping is just everywhere covering films such as Prom Night, Night School, Madman and many more. I just loved how this film was both a slasher flick in its own bloody right and also a total homage to the films Steve and Kevin adore the most."
"I loved Don't Go to the Reunion. It turned out to be everything I hoped for and more, the perfect tribute to 80′s slashers. It has plenty of humor, a good helping of blood, and a great plot and twist ending. There's been a lot of buzz around Slasher Studios ever since Teddy, and with their first full-length release they prove to deliver exactly what slasher fans want. So if you're among those of us that are tired of found-footage, haunting movies, and other bland modern horror films, Don't Go to the Reunion is the breath of fresh air you're looking for. I can't wait to see where they go from here."
"I loved the sense of praise to the slasher genre this film incorporated. The kills, the atmosphere, the writing it all screamed 80s slasher classics like Prom Night, Terror Train, Final Exam, Scream, Madman, Happy Birthday To Me, Iced, Night School, the list just goes on."
"If you're sick of remakes, sequels, and overused found footage horror Hollywood is spitting at you, check out this great film that shows the slasher subgenre is still very much alive."
Thank you to everyone who has submitted a review for the film so far! This movie is for the slasher fans and we are thrilled beyond belief that you guys are loving this!
If you haven't yet preordered your copy, here's your chance. DVDs will be shipping at the end of the month and have some awesome exclusive features including a filmmakers commentary and all three of our previous horror shorts.