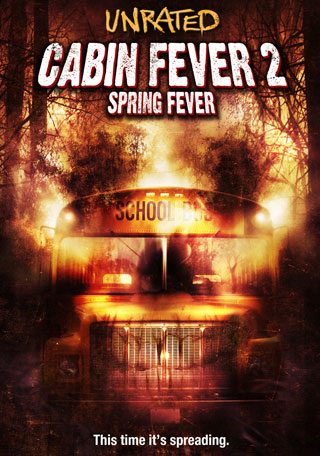 "Cabin Fever 2" begins with a very disfigured Paul (Rider Strong) escaping from the creek and wanders through the woods, leaving pieces of his own flesh in the way. When he finally makes it to the highway, his body explodes when he is hit by a school bus. The creek Paul was lying in was connected to a bottled-water company and the infected water was distributed to the local high school.
John (a sweet Noah Segan), a senior at the high school, is deciding whether to go to prom with his long-time crush Cassie (Alexi Wasser) or stay home. His friend Alex (Rusty Kelley) is against going until he hooks up with a girl named Liz (Regan Deal). She then says if she can get off work that night, she'll meet him there. John asks Cassie to go to prom but she refuses. Meanwhile, Winston (the dumbass deputy from the original) is at a restaurant where a worker from the bottled-water company dies from the infection. He then realizes the creek got heavily contaminated and goes to the water plant to tell the officials that the water is contaminated. The worker he informs is quickly killed by a group of CCD (Contamination Control Division) soldiers in NBC suits. Winston leaves before they can get to him.
At the high school the infection begins to spread slowly. Alex is disappointed that Liz didn't come, while John gets into a fight with Cassie's boyfriend Marc (Marc Senter). Principal Sinclair (Michael Bowen) then kicks John out. Cassie follows him and John confesses his love to her. Will the duo be able to make it out of this "sticky" situation alive?
"Cabin Fever 2" is a messy, gory, bloody cherry on top of a demented sundae. From the opening (poor Rider Strong) to the blood bath of an ending, nearly everything about this sequel works. This is one of those slasher movies where I just don't understand the hate. Had this movie been made in the 1980's and directed by Sam Raimi, horror fans would be praising this as the next second coming of horror. The gore is demented, the kills are extremely disgusting, and the central love story is actually quite sweet. I was actually touched at the sacrifice that one friend gave so another could live. So the epilogue doesn't really work (poor Ti West got his movie taken away from him and had his ending completely butchered just to go in some producer cameos) but this is splatstick at its very best. If John Waters directed a horror film in the 1980's, it would look something like this. Bloody recommended!