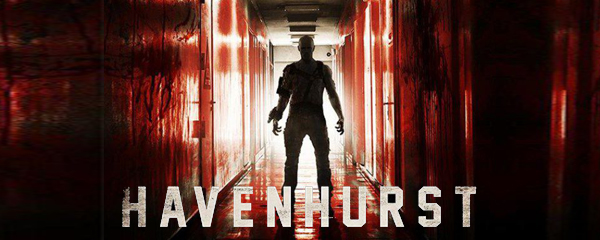 Jackie (Julie Benz) is a recovering alcoholic who loses her daughter in an accident due to her drinking. In an attempt to start over, as well as figure out what happened to her missing friend Danielle (Danielle Harris), she moves in to the large Havenhurst gothic apartment building under the management of the rule-oriented Eleanor (Fionnula Flanagan). As Jackie lives there, she begins to uncover dark secrets about the buildings history and what happens to the tenants when they don't live up to building's rules.
The film starts out with the most disappointing cameo since Katherine Isabelle in The Girl in the Photographs. And this is quite probably worse. It's worse due to the fact that this is Danielle Harris we're fricken talking about, and she gets a measly 3 minutes or so of screen time before she dies, and the scene itself could have been really good had it been longer, but even worse, much of those 3 minutes are shown in the trailer. Mini rant done. Havenhurst actually as a really good set-up for itself. We have a very nicely constructed and creepy setting with some good set pieces, along with a good mystery to it. The lead character is likable, even though she has the most overdone backstory ever and clearly she has to do something to redeem herself for her past. But despite that you do care for her. The supporting characters aren't really well-developed, but they're painted as naturally shitty people, so it's not exactly a big loss. The history revealed about the building is actually fricken cool. I admit I knew nothing much about the real history that was borrowed to use towards the story of this movie, but upon some google searching it's very interesting. So unless certain elements leading up to the reveal stand out to you that you may know where it's going, it'll be a nice treat for you. But sadly once this is revealed, it doesn't go much further with it. Which really is a huge shame, because for such a big reveal you really want it to go into that area more. This goes hand-in-hand with the overall motive. There's not much connection between the reveal and the motive behind that disappearances that I could tell. Unless I missed something in my googling, then my bad. The death scene do have some pretty nice blood and gore images though but doesn't get too carried away with them.
Julie Benz turns in a well-done performance as per usual as the lead, which in turn does help in making the character likable and sympathetic, because I feel that given to the wrong actress, she could have half-assed it and made you not give two shits about Jackie. Fionnula Flanagan does a fine job as well, but I wish she could have been given more eerie moments involving her character than we got, because as she she displayed in The Others, she sure as hell can be creepy. And then in her minuscule role, Danielle does as well as she possibly can and at least we get her scream we all know and love.
Havenhurst has a great setting and set pieces and good performances, and is given a solid reveal, but it's a huge victim to not reaching the potential it could by going further with this reveal.
–Cody Landman