Filmed across the pond in Ireland, the short film, Out There, was a surprising treat to bite into. Directed by Randal Plunkett, Out There begins deep in an Irish forest where we meet Robert. He is on the ground with a nasty head wound and seems to be a it out of sorts. As he searches for help or any signs of life, Robert has flashbacks featuring his wife, Jane. They seem to be the perfect loving couple and the absence of Jane is most definitely weighing on Robert's mind.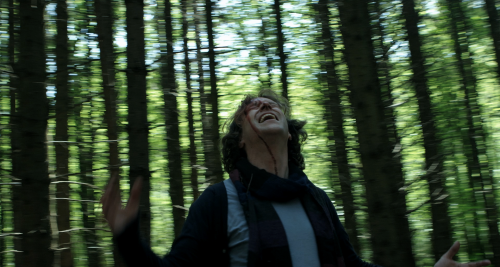 While Robert continues his walk through the forest, he begins to remember bits a pieces that help him make sense of why he is stranded alone. The flashbacks are not only key to this film, but they are the backbone. The editing is fantastic (some of the best I've seen in indie films) and while the film may start off a little sluggish, the non-linear editing keeps the film very interesting and fun to watch. Speaking of fun to watch, the cinematography within this 16 minute short is outstanding. With all the great shots, perfect lighting and the beautiful Irish setting, Out There will have no problem wowing audiences.
There are only two speaking roles and both Jane and Robert seem real and are easy to connect with. The acting is above par and paired with the high production value, this should do very well during it's festival play. The last shot of the film is one to stick around for, so get out there and watch this flick today!