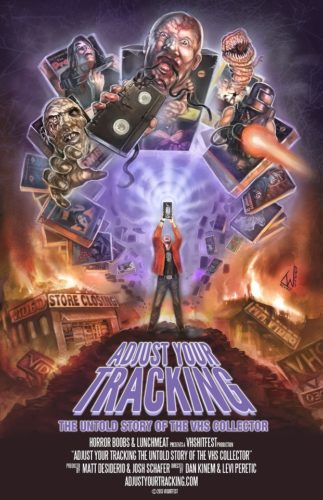 Slasher Studios recently had the chance to talk with Dan Kinem one of the creators of "Adjust Your Tracking: The Untold Story of the VHS Collector" about the VHS boom, VHS collecting, and how the format is making a comeback even today.
First off, tell us a little bit about your new documentary Adjust Your Tracking.
Adjust Your Tracking is a feature-length documentary directed by me (Dan Kinem) and Levi "Dabeedo" Peretic. It is a passion project of ours all about the love we and so many others share for VHS. It documents the culture surrounding VHS and VHS collecting and will hopefully give insight into why people still cherish what many call a "dead format."
What made you decide to take on this project and has VHS always been a part of your life?
Well, I started a website called VHShitfest a few years ago where I published reviews for movies that I watched on VHS. I began getting heavily into the collecting world and thought now was the time to do a documentary sharing people's love for the format. I realized there wasn't anyone else who was going to be able to capture this subculture and knew that it was well-deserving of being documented. VHS has always been a part of my life. There hasn't been a period where I haven't owned at least some VHS, but for a while there I was caught up in the bug of DVD and heavily into collecting Criterions, but I never fully forgot about VHS and rekindled my love of the format when I slowly started purchasing and hunting down movies that you couldn't get on DVD.
I know that you started out with Kickstarter as a way to raise funds for the documentary. What were some of the challenge of completing a successful Kickstarter campaign?
Well, I had to spend the majority of my time promoting the Kickstarter and the film and trying to get people to take notice, but I think once they saw how enthusiastic I was about it and saw the teaser trailer they were more willing to donate money. Kickstarter and all the people who donated really helped us out and I can't thank them enough. Without them the movie would have probably never happened.
What makes VHS special to you?
Where do I begin? Getting a new tape is like getting a piece of history and seriously comes with hours of entertainment for me. It might sound nerdy or whatever, but I love being able to look at a new tape, the labels, how poorly the plot is written, how amazing the art looks, checking out the film to see what cut of the movie it is and what trailers are on it. There's so much greatness that comes with getting a single tape and so many memories that come with revisiting or looking at my VHS that I don't see how anyone could not like VHS. It's one of the most fascinating aspects of film history and without it we wouldn't have probably 10,000+ movies that we do. VHS made it possible for independent films and low-budget films to reach an audience and it gave way for many artists and hucksters to try to market movies in unique/entertaining (still to this day) ways. It's just an amazing and vast world of amazingness.
Being made "by VHS lovers for VHS lovers," what were some of the most fascinating collections you saw?
Without spoiling any of the documentary we saw some of the most impressive and amazing collections out there. From the biggest to the smallest, all of the collectors we talked to had great things to say and shared a great love for the format. I can say that we came across an entire COMPLETELY functioning video store in someone's basement and an entire trailer in the middle of nowhere filled with possibly the rarest collection of films I've ever seen, even in pictures. And that's only the tip of the iceberg.
At the height of the VHS boom, the UK revealed their "Video Nasties" list and many films were banned outright. What effect did this have on video collecting?
Well, I'm not from the UK and never had any experience with the Video Nasties list, but I know this had a huge impact on video collecting and film/film censorship as a whole. Many of these titles are still hard or impossible to get in their complete uncut forms there making the uncut versions on VHS highly rare and collectible. It sucks that many great horror films were unrightly censored and banned.
With several films like The Sleeper & V/H/S featuring special VHS releases, is the format due for a comeback?
I think we are currently experiencing that comeback. When I have random teen girls on Instagram asking me what I thought of V/H/S or when I walk into FYE and see The Basement VHS/DVD big box on the shelf I'm pretty sure that's a comeback. Yeah, it might not have registered with everyone yet, but a vast majority of people who pay attention to what is going on in the film world should have begun recognizing that VHS isn't a dead format and is well on its way to possibly becoming a marketed item again, maybe even being adopted by a major company.
What is your all time favorite VHS release?
I have so many favorite tapes and they change daily. I love both of my Snick VHS because those really take me back to my childhood. I also love my copies of Black Devil Doll from Hell, Spine, Lunchmeat, 555, Hellroller, etc. There's too many to name!
What is status of Adjust Your Tracking and when will fans of the format be able to check out the film for themselves?
The film is finished besides a few minor tweaks. We are aiming for a world premiere some time in April for the movie, but no date or place has been set in stone yet. Beyond that, however, there will be a screening in Stroudsburg, PA at the second annaul VHS Collectors Unite Convention/Short Film Festival, which should be amazing. The movie will also headline the VHS Fest in New York state in June, as well as play at the release show for the new issue of Lunchmeat sometime in between then. More information about these screenings can be found at our Facebook.
A big thank you to Dan for the awesome interview. Make sure to keep the lookout for Adjust Your Tracking and long life VHS!!