I went into Rob Zombie's The Lords of Salem very opened minded. I didn't know much about this
film other than seeing the trailers, and knowing it was Zombie's new film. After seeing Evil Dead
(2013) and being completely let down, with what I thought was my most anticipated horror film of
the year, I thought gosh, I hope something else comes out this year, that really surprises me,
and doesn't let me down. Little did I know, The Lords of Salem would be just that.
The story revolves around Heidi Hawthorne (Sheri Moon Zombie), a local radio disc jockey.
When she is mysteriously sent a wooden box containing a record from a group, known only as
"The Lords", her world begins to spin violently out of control. The sounds within the grooves
trigger flashbacks to the town's violent past. Heidi finds comfort in her fellow co­workers, Whitey
(Jeff Daniel Phillips) and Herman (Ken Foree). The apartment building she lives in, is ran by
Lacy (Judy Geeson), a friend of Heidi's. Is Heidi going insane? Or are the Lords back, to take
revenge on Salem, Massachusetts?
I was completely blown away by this film, and in my opinion, it's Rob Zombie's best film to date.
It's completely different than anything he's done before. I was captivated with The Lords of Salem
from beginning to end. There are so many dark undertones to this film (substance abuse,
witchcraft, and the religious aspects), and the imagery had me in all. Rob Zombie recently
described the film as, "If Ken Russell directed "The Shining." I have to completely agree with Rob
on that description, but I would also like to add, the film gave me vibes of both Roman Polanski's
"Rosemary's Baby", and Stanley Kubrick's "The Shining." The Lords of Salem is beautifully shot
by Brandon Trost (Halloween 2), and the haunting score by John5 is outstanding.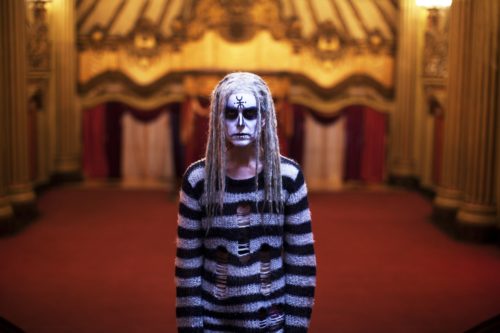 The acting in Rob Zombie's The Lords of Salem, is one of my high points for the film. Sheri Moon
Zombie does a great job, bringing a lot of emotion, and character to Heidi. One of my favorite
scenes in the film, is with Whitey and Heidi's character. It's a phone call scene between the two
of them, and Whitey is telling her how much she means to him, and how he will always be there
for her. I sat there in the theater, and I actually teared up. Margaret Morgan (Meg Foster), the
lead witch in the film, was so disturbing. She gave a fantastic performance, and really went for it.
Megan (Patricia Quinn), Sonny (Dee Wallace), and Lacy (Judy Geeson) play sisters within the
film. Patricia Quinn (The Rocky Horror Picture Show) gave one of my favorite performances in
The Lords of Salem. Dee Wallace (Cujo) played a fun, self­help guru. It was nice seeing her in
the film. Judy Geeson (To Sir, with Love), also does a great job here. She brings a lot of heart to
the film. Mr. Matthias (Bruce Davison) plays a local author in the town. He gives a great performance, 
and really tries to help Heidi's character throughout.
The Lords of Salem is Rob Zombie's best screenplay. As I've said before, this movie is such a
departure from what we have seen in the past. I was pleasantly surprised to see this movie
wasn't riddled with all the typical Zombie "white trash" dialogue.
I can not recommend this movie enough. If you are able to see this on the big screen, do it. I
myself, have already seen it three times in the theater and I can't get enough. No, not everyone is
going to like this movie. I think people will either love it, or hate it. This is Rob Zombie's disturbing
masterpiece that packs a royal punch, and leaves you thinking long and hard about what you just
watched as you leave the theater. Highly Recommended.
–Douglas Conner