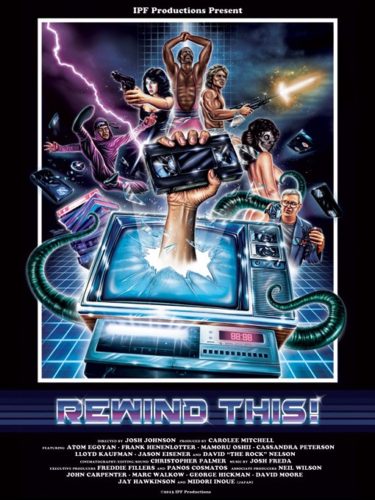 Growing up as a child of the 1980's. VHS was my life. Every Friday night I would hop on my bike after school and head down to the local video store with the largest selection of horror movies. I'd run to the back of the store where the "really good" horror movies were and enjoy the bloody feast of gory eye candy. It was a rush of adrenaline that every horror fan should experience regularly. The painted covers, the delicious puns, the bonanza of blood! Ohhh, they were some good times.
Watching the new documentary Rewind This! brought back these incredible memories with a glorious gory grin on my face through the entire 92 minute running time. Directed by Josh Johnson, Rewind This! tells the story of the 80's VHS boom, the collectors today that are still holding on to their VHS collection, and the future for the medium. Filled with interviews from collectors as well as filmmakers from the era, the documentary has a lot of fun showing the power VHS has over fans even today. Want some vintage VCR commercials? Oh, believe me, they are all here. I especially loved the commercials that feature the state of the art "cordless remote feature" as well as the cutting edge "rewind option." It's a nostalgia lovers wet dream as is some of the rare VHS tapes featured.
As the doc moves on to the world of today's cinema and the advent of streaming video, it plays as a bit of a heartbreak for horror fans. One film professor mentions how her students have no desire today to start a video collection as anything they could ever want to see is available on streaming. How sad is that? Early VHS was an artform in and of itself and film lovers of the new generation are surely missing something with the lack of a physical medium. This film understands that and celebrates the great years with great enthusiasm. This is a fantastic documentary for the film lover in all of us. Check it out!
To order on Amazon: Rewind This!