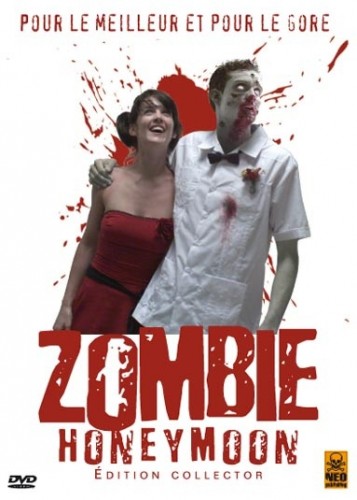 Hope everyone is having a wonderfully bloody 4th of July today as we celebrate with another twitter review from our resident guest critic Tim Schilling. It should be no surprise to anyone that I adore slasher films (it is, after all, the name of this site). Well, as much as I love slasher flicks, Tim loves zombie action. Today he is back with a brand new review of "Zombie Honeymoon." Should be a match made in horror heaven, right?
Thoughts before the film:
I saw this movie a while ago, and I don't remember if I liked it. It's different from what I usually watch. #ZombieHoneymoon
Thoughts while watching:
0:06 This couple is really weird, like I don't know how to explain it without showing. WEIRD.
0:10 I wonder what the chances are that you're alone on the beach during the summer, and a zombie comes outta the water?
0:17 "It's okay, you're a zombie and bit me, I liked it" -bimbo girl.
0:21 You're afraid of getting boring, so you both quit your jobs and leave your apartment. I don't get it.
0:24 This grown man is overly excited about everything that happens to him. He'll probably die if a bug lands on him.
0:30 I bet on every page of this script you'll see "I love you" a least 5 times.
0:37 You already ate the fat guy's face off, you aren't a vegetarian anymore.
0:44 Jersey accents….
0:44 "sorry for biting her".
0:53 Portuguese zombie doctors, best in the business.
1:09 I wonder if they intentionally made the guy look like zombies from the original Dawn of the Dead.
Overall:
Romance and horror seem like it's impossible to combine. I'll give #ZombieHoneymoon props for trying to do it. The first hour didn't work. At all. But the last 20 minutes improved A LOT, and if the whole movie was like the ending, it would have been a great horror romance movie. #ZombieHoneymoon
To follow Tim on twitter: https://twitter.com/schillingt
To follow Slasher Studios on twitter: https://twitter.com/slasherstudios