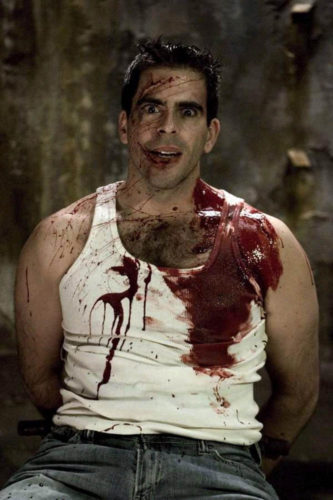 Roth was born in Newton, Massachusetts, to Dr. Sheldon Roth, a psychiatrist/psychoanalyst and assistant clinical professor at Harvard Medical School, and Cora Roth, a painter. His grandparents emigrated from Austria, Russia, and Poland; Roth was raised Jewish.
Roth began shooting films at the age of eight after watching Ridley Scott's Alien (1979). He made over 50 short films with his brothers Adam and Gabe before graduating at Newton South High School and attending film school (the Tisch School of the Arts) at New York University, from which he graduated in 1994. By the age of 20, and while still a student at NYU, Roth ran the office of producer Frederick Zollo, eventually leaving to devote himself to writing full-time. He graduated Summa Cum Laude in 1994 at NYU.
In 1995, a year after graduating from NYU, Roth cowrote Cabin Fever with his roommate and friend from NYU, Randy Pearlstein. Roth based the premise of the script on his own encounter with a skin infection he contracted while training horses at a farm in Selfoss, Iceland, in 1991. Much of the script was written while Roth was working as a production assistant in 1996 for Howard Stern's movie Private Parts.
Cabin Fever was made in 2001 on a budget of $1.5 million raised from private investors. Roth sold the film to Lionsgate at the 2002 Toronto Film Festival for $3.5 million, the biggest sale of the festival that year. The film was released in 2003 and was Lionsgate's highest grossing film of the year, earning $22 million at the U.S. box office and $35 million worldwide. Lionsgate used the theatrical success of Cabin Fever to raise the money to purchase Artisan Entertainment. Lionsgate stock rose from $1.98 a share at the time Cabin Fever was purchased at the Toronto Film Festival to nearly $6 a share after Cabin Fever was released theatrically. The film made Roth a new star in the horror genre. In his 2004 Premiere Magazine interview for Kill Bill, Quentin Tarantino called Cabin Fever his favorite new film and Roth "the future of horror."
Roth's second feature film, Hostel, was made in 2005 on a budget of a little more than $4 million. It opened to No. 1 at the box office in January 2006, taking in $20 million over its opening weekend. It went on to gross $80 million worldwide in box office, and more than $180 million worldwide on DVD. In April 2006 on Eli Roth's birthday, Hostel opened on DVD at No. 1.[citation needed] The movie plot is said to take place in Slovakia, however, all the exteriors were shot in the Czech Republic. The story line is naively simple – three friends are lured to visit a hostel in which they think their sexual fantasies will come true. Instead, they drop into the clutches of an international syndicate offering a first-hand torturing and killing experience to the sadistic pleasure of rich tourists. The film was voted the No. 1 scariest movie moment on the Bravo TV special 30 Even Scarier Movie Moments. Empire Magazine readers voted Hostel the Best Horror Film of 2007.
Roth reportedly turned down numerous studio directing jobs to make Hostel. He took a directing salary of only $10,000 on Hostel in order to keep the budget as low as possible so there would be no limitations on the violence. In January 2006, film critic David Edelstein in New York Magazine credited Roth with creating the horror sub-genre 'torture porn,' or 'gorno,' using excessive violence to excite audiences like a sexual act.
In 2007, Roth directed the faux trailer segment Thanksgiving for Grindhouse in addition to appearing in Death Proof, Quentin Tarantino's segment of the film. Roth and cowriter Jeff Rendell won a 2007 Spike TV Scream Award for best "screamplay" for their writing in Grindhouse, sharing the honor with Quentin Tarantino, Robert Rodriguez, Rob Zombie and Edgar Wright. Roth also provided the narration for the faux trailer. Rumors have it that Roth will be directing a feature-film version of Thanksgiving to be released in 2013.