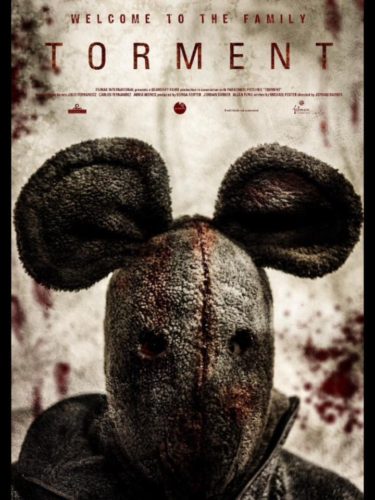 When Cory and his new wife and son visit his old family home their quiet getaway is disrupted by masked intruders who stalk and pray on the family. Just as the new family are starting to fall apart, they are forced together in this struggle to survive the savage attack on what they hoped would be a new beginning.
I had the privilege of seeing Torment at the Glasgow Film4 FrightFest. It was one of the first times that the film had been screened and was the first in Europe (this being the UK/European premiere) and it was an amazing experience seeing this great home invasion horror come to life on the big screen.
The acting in this film was very well done and that is no surprise to me as horror legend and great talent Katherine Isabelle stars in this shocking thriller. The director Jordan Barker was in attendance at the festival and spoke about the making of the film. Sadly Katherine was not able to be there as she was scheduled to be there but, due to work related issues, she could not make it.
As far as the movie goes, it was a sure fire hit. The atmosphere alone was chilling and through subtle flowing plot twists, you have your self a film that you will not forget any time soon. This film has to be one of the best I have seen in a while and although slightly reminding me of the 2011 horror film You're Next, it managed to stick to an original story but still keep up with the regular and awesome horror more traditions.
This is one of those films that you can watch again and again and get enjoyment from it every time. Keeping the scares going throughout there is not a still moment in the film. Tying in the theme of family and the lengths you would go to for your family shows originality on the directors part. This film proves that you can still kick ass in the horror genre.
I can not recommend this film enough. Though not due out yet,it should be getting picked up very soon in the USA. A UK distributor are also in talks of picking the film up for UK release.
–Ross Wilcock