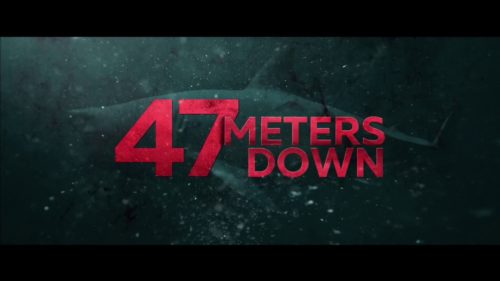 After being dumped by her boyfriend claiming she's too "boring", Lisa (Mandy Moore) invites her sister Kate (Claire Holt) along with her, hoping to prove to him that she can be fun. The two are then invited to go cage diving with some very large sharks. Upon descent, their cage drops to the ocean floor. Eventually the sisters find they're not safe inside the cage as their oxygen runs low, and they aren't safe outside because of the sharks. It's a race against time as the sisters fight to survive.
After the success of The Shallows, 47 Meters Down was pulled from it's straight to DVD and digital release (it was very close to its release date), and the new plan was to release it in theaters. I'm really happy about this move, because this is one shark movie that deserves to be seen in a theatrical setting. At the same time however, while the sharks are a huge threat, even more so, the ocean itself is a threat. The film is so well-done and suspenseful with how it's directed and filmed. It also uses the setting to its advantage. The film succeeds at making us feel trapped with these characters in this small space, and we feel our breaths growing as short as theirs because of how much we're holding it. This occurs as the intensity builds. The intensity in question all starts and can be felt right when we see the girls climbing into the cage. Most of the film is completely underwater and it brilliantly makes us feel like we are there. The way cinematography captures the surroundings and as well as what could be hiding in the dark waters is nerve-wracking and really makes you hold your breath. This is only worse when the shark scenes come about. The sharks are used the perfect amount without using the same tropes and tricks over and over. This only further causes you to be on edge, and it contains some extremely well-done jump scares. In terms of characters, they feel pretty genuine, smart, and relatable. Lisa is the more reserved character and the first to really panic, but she also has a solid character arc watching her having to get over her fears and panic in order to survive. Kate is the more adventurous and brave one trying to be there for her sister. But what's interesting is how at certain points, their roles seem to flip and they equally need to help each other. Some of the actions they commit may not be the smartest from an outer perspective, but situation-wise, these decisions come off as necessary because of the dire circumstances. Mandy Moore does really well with her performance and really sells her character's fear and gradual changes. Of the two though Claire Holt turns in the strongest as we see her balancing bravery and fear along with her strength and concern for Moore's character. The pair however are very believable as sisters and have strong chemistry to really help you care for and root for them.
47 Meters Down is a hard-core heart-pounding thriller that really does have you gasping for breath. This is more than a shark film, it is a hardcore survival film where the stakes are off the charts. Thanks to brilliant direction and cinematography, you are trapped with these two characters and really feel the terror and tension rising.

–Cody Landman