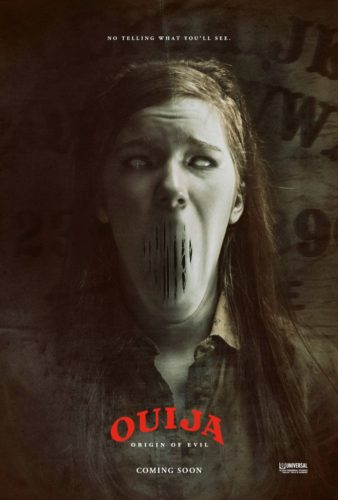 About a month ago I watched Ouija: Origin of Evil (2016) in theaters. This is the prequel to "Ouija (2014)" – a movie that I've also seen in theaters and reviewed. I didn't hate that movie as much as most people did, but upon a second viewing I noticed that it hasn't held up so well. My current rating for Ouija is a 6.5 out of 10.
When a sequel was announced I didn't know what to expect. I didn't have much faith until Mike Flanagan was announced to write and direct. The trailer unveiled that we'd get an origin story – which is a better idea. I was holding my breath for the reviews and they turned out to be fantastic. The movie sits on a Rotten Tomatoes Score of 82% Certified Fresh whereas Ouija could only muster up 7% Rotten. As a result I absolutely loved the prequel! The story was more compelling this time around. I actually cared for the characters and they didn't feel one-dimensional.
The acting performances were outstanding. Annalise Basso was nothing short of amazing in this movie! Elizabeth Reaser pulls off a great performance and deserves more recognition for her non-Twilight roles. I also liked Henry Thomas (who played Elliot Taylor in E.T. the Extra-Terrestrial) in this movie. Doug Jones was genuinely terrifying as Ghoul Marcus. Young actress Lulu Wilson stole the entire movie. She's the perfect combination of cute and creepy. Mike Flanagan did an excellent job in the writing/directing department. I loved the ''cigarette burn'' aspect and the overall 1960s retro vibe throughout the movie. There were a few jump scares, but it's worth mentioning that 90% of this movie purely relied on creating suspense that produced an effective result. Other aspects that I loved were the soundtrack, hair, make-up and costume design.
I can only name two things that I didn't like. The CGI wasn't fitting with the time era of the 1960s and that bothered me in some parts. The third act felt rushed and should've been longer. There is a brief scene after the credits that ties into the first movie. Ouija: Origin of Evil is an eerie and well crafted throwback horror movie that offers both style and substance. Highly recommended!
–Ferdi Akkulak