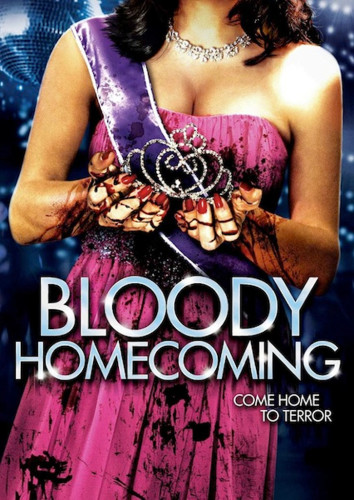 When a group of friends get denied access to their Freshmen homecoming by a group of older students, they decide to throw their own party. However, when the football star, of the group, Billy, tries to attack one of the girls, the friends lock him up in a closet where is he accidentally killed in a fire. Three years later after two banned Homecomings, the friends are now seniors and the return of Homecoming has arrived. But someone is trying to crash the celebration. The friend's receive threatening messages in their lockers believing it's sick joke. But on Homecoming night, the friends find themselves being stalked and slayed by someone wearing a fireman's outfit. Is Billy back for revenge? And who will survive this Bloody Homecoming?
Bloody Homecoming is a very fun 80s style slasher that many slasher fans (myself included) has desired. This is the film the Prom Night remake should have been. We are given a group of characters that are very funny and likable. Especially Jaclyn played by Randi Lamey, Jaclyn is the one with the sharp tongue and not afraid to step up to the plate. We are also given Wade, the lovable and funny gay character played by Branden Lee Roth. And although he is not one of the leads, we get a few comical moments from Janitor Fred played by Jim Tavare. Finally, we have our Final Girl, Loren, played by Lexi Giovagnoli. She's the kind-hearted character who's the friend to everyone. While Loren is very likable, she's really not given much to do when it comes to the final act. Along with our likable cast, we have some very nice kills and plenty of blood. To top it all off we have a couple of good chase scenes (let's face it, many slashers severely lack them these days). Bloody Homecoming resembles some classic 80s slasher films like Prom Night, Happy Birthday to Me, House on Sorority Row, and My Bloody Valentine. We have the over-the-top acting, gnarly kills, the "back for revenge" subplot, and a very hysterical final act when the killer is revealed.
If you miss what a true slasher really is that is all about fun rather than just gore, Bloody Homecoming is highly recommended.
–Cody Landman