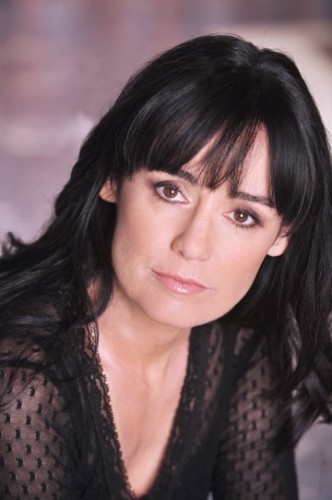 Today we would like to do a tribute to one of our favorite husky-voiced "scream queen" heroine of the 1980s: Jill Schoelen. Born and raised in Burbank, she studied at the Acting for Life Theatre in Burbank and started off on TV as a teen in the Fame-influenced TV pilot called Best of Times starring the up-and-coming Nicolas Cage and Crispin Glover. She gained in experience with a number of innocuous films geared mostly toward the young, including D.C. Cab (1983), Thunder Alley (1985) and Hot Moves (1984). The dark-eyed, black-haired pretty with the trademark bangs wouldn't find her horror niche until hooking up with Wes Craven and his TV movie Chiller (1985). From there she scored big with the cult shocker The Stepfather (1987) wherein she played the resourceful stepdaughter terrorized by the lecherous, meek-appearing Terry O'Quinn as the title monster.
The sleeper hit put Jill on the map with a seemingly solid future, continuing on with The Phantom of the Opera (1989), this time keeping company opposite Freddy Krueger inhabiter Robert Englund as her deranged pursuer. After Opera, Schoelen appeared in The Curse II:The Bite (1989), Cutting Class (1989) and the underrated Popcorn (1991). Although these films weren't very successful, she did land the lead in the TV movie sequel When a Stranger Calls Back (1993) which reviles the original in terror. After Calls Back, Schoelen disappeared from Hollywood to focus on raising a family. The slasher world was down one terrific scream queen.
Today we honor you Jill Schoelen as our Slasher Studios Scream Queen of the Week. So let us all pop some popcorn and put in our copies of The Stepfather to pay tribute to a Slasher Queen that never really received the acclaim she deserved.