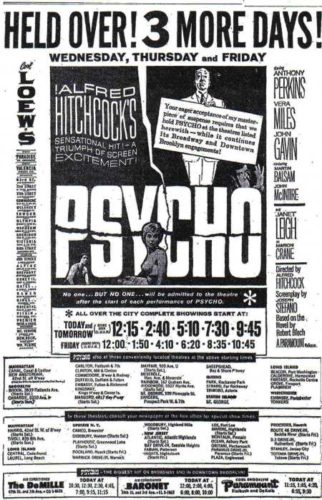 I have finally watched Psycho (1960) for the very first time ("P" of #AtoZHorror in August/September) and while I despised the 1998 remake by Gus Van Sant, I instantly loved the original classic from Alfred Hitchcock! The direction, the cinematography, the great use of black and white, the phenomenal acting performances and not to mention, the infamous shower scene. Whatever I hated of the shot-for-shot remake, I LOVED in the groundbreaking original. The characters are very well flashed out, which was very interesting to see. It was clear that this movie took its time to build up the story and characters.
It is not a particularly scary movie but it had some intense and frightening shots that score high on the creepy factor! The acting performances of Anthony Perkins, Janet Leigh and Vera Miles were superb! The script was really interesting and I love how it was presented to us as a murder mystery instead of a straight forward horror story. One disadvantage going for this original is that the remake pretty much ruined the originality and freshness of the original, cause its a WAY WAY better movie, some elements were just not working for me after having seen the remake first.
With having that said, Psycho is still a groundbreaking classic with one of the best scores I've ever heard in a horror movie, the final twist still got me even tho I already could guess. Its a perfect example of how a mystery/thriller should be made without loose ends or cliches. Highly recommend it to everyone!
–Ferdi Akkulak