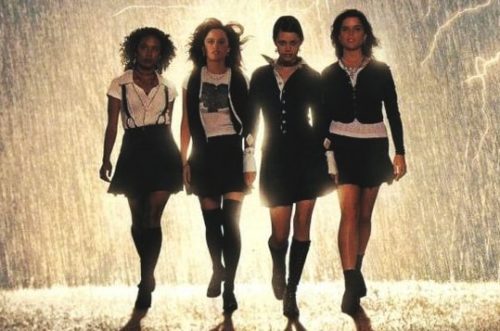 On Thursday Night I saw The Craft (1996) for the very first time with some friends from Instagram! I already own it on DVD for a long time but I had not seen it yet. I remember the film standing out to me due to the poster and the cast full of youngsters. Neve Campbell is my favorite horror actress and I loved her ever since I saw her in the Scream movies. I did hear that The Craft was her first official role and she filmed it right before the original Scream. The premise also sounded very original and intriguing.
I finally saw it and I was impressed by it. The acting performances from the entire cast were really solid. Fairuza Balk was captivating in her role of the Craft leader turned psycho Nancy. I liked how she overacted in some scenes because it suited her character. A character you'd love to hate. Robin Tunney also did a great job in this movie, great character development. Neve Campbell was the standout in my opinion, I might go out there and say that this was her breakout role but her performance in Scream is far superior. You do get a clear image of her talent and that she's a gifted actress. Rachel True was good in her role but in my opinion she was just THERE for me, she didn't standout but she was just fine. Christine Taylor played an excellent evil bitch, to the point where you feel bad about her fate. Skeet Ulrich and Breckin Meyer were fun in this movie, especially loved Skeet in this movie. His scenes with Neve (only two or so) are hilarious cause they also starred together in Scream. So amusing seeing those two at the same time in a scene in The Craft.
This movie definitely results in as "Carrie meets Clueless" and that is all sorts of fun! The soundtrack was great and very 90's. Excpetionally filmed by Andrew Fleming but the script had some problems and a few plotholes. The visuals are not always well executed but definitely very effective. Sometimes it looks dull however. There are lots of thrills in The Craft but its light on blood and gore. The bonding scenes between the girls were really good. I would highly recommend The Craft to anyone, I wanna upgrade it to Blu-ray! Great movie!
–Ferdi Akkulak