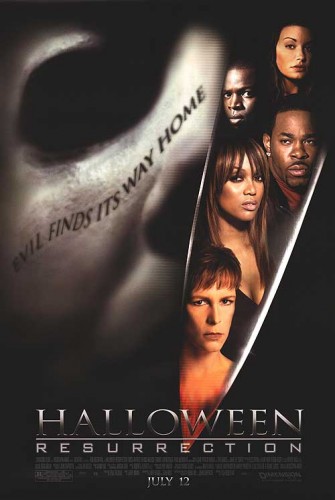 About a month ago, we posted a scathing review of Halloween: Resurrection from one of our horror reviewers, Joshua Dean. He gave the film zero Teddys and declared it to be one of the worst horror movies he has ever seen and an insult to the entire franchise. Today our resident twitter reviewer Tim Schilling is going to share his take on film with a brand new tweet by tweet review. Let's see if he has a similar reaction…
Thoughts before the film:
Last Halloween movie I own and then I get to move on to something else, hurry up! #HalloweenResurrection
Thoughts while watching:
0:04 That was the lamest way to have Michael survive the last movie. Such a cop out.
0:15 Such a terrible way to have Laurie finally get killed off.
0:29 Don't act ever again Tyra.
0:40 I like how they abandoned the characters they created in the last movie.
0:41 What kind of set doesn't have someone at the doors to keep people from walking in?
1:01 Did these people seriously think they were in a house that wasn't rigged or anything?
1:05 I don't understand, how hard is it to jump out a window?
1:19 Trick or treat mother fucker!
1:25 I am in complete shock that he was alive at the end! No way.
Final Verdict:
#HalloweenResurrection was a boring story that was probably written in a day. Kind of glad that they did a remake instead of another sequel.
To follow Tim on twitter: https://twitter.com/schillingt
To follow Slasher Studios on twitter: https://twitter.com/slasherstudios