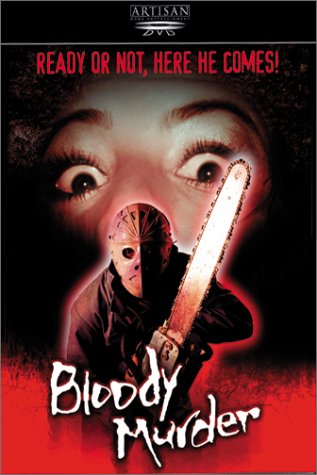 In 2000, a movie was released that was the end all be all "Friday the 13th" rip off. Too bad the movie in question was about fifteen years too late to capitalize on that franchise's huge success. The movie was titled "Bloody Murder" and it was ripped apart by horror fans and critics alike with many calling it the single worse horror movie of the decade. While I personality didn't feel it was THAT bad (did these critics in question watch "Ax Em"?), it certainly wasn't good by any stretch of the imagination. Today we have our faithful twitter reviewer Tim Schilling ready to take a look at the film to ask the question, "Is Bloody Murder really THAT awful?"
Thoughts before the film:
Finishing up this pretty bad 8 pack from Walmart I got months ago. I've been avoiding this… ‪#BloodyMurder‬
Thoughts while watching:
0:02 Chainsaw has been done before.
0:04 I wonder if it's a law in the writing world to called everyone names Julia, jewels.
0:13 They said the name! I didn't think they would in this movie.
0:17 They faked being the killer two times already, I'm not gonna believe it's the killer next time now.
0:25 Lemme just push you off the boat, watch you drown for a little bit then bring you back up.
0:27 I don't know what movie these people are watching in this, but I'd rather watch that than this one. Make sense?
0:31 Ohhh your watch beeps on the hour… Please let me have your technology.
0:32 Is this a detective movie? Sherlock Holmes right here.
0:39 How did this movie not get sued by the people of Friday the 13th? This is exactly the same.
0:45 Really? A character's name is Jason? There's a difference between homages and blatant copying.
0:58 How can someone "seem really tired" if they're already sleeping?
1:02 Falling on your butt = scratched up knee.
1:05 …oh I've seen this movie before. I remember turning it off before I finish it, wonder why.
1:10 No, it was not drew. The guy in the mask was way bigger and taller than her.
1:12 It took like 5 murders for the cops to finally close down the camp.
1:17 This makes absolutely no sense. Like at all. Did a 5 year old write this?
1:24 I bet the guy walking away is the killer in the sequel.
1:25 Wait never mind he's dead.
To follow Tim on twitter: https://twitter.com/schillingt
To follow Slasher Studios on twitter: https://twitter.com/slasherstudios