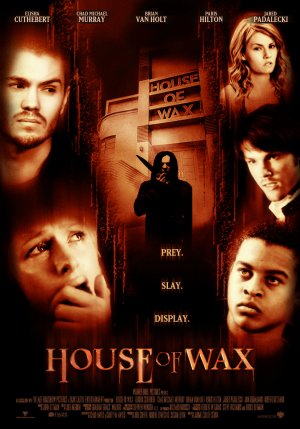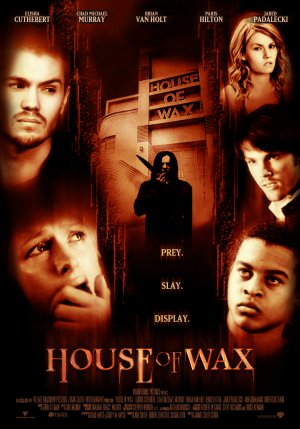 In 1974, a woman is making a wax head in the kitchen while her son eats cereal in his highchair. Her husband enters carrying a young boy who is shouting and kicking. The boy is forced into a highchair and strapped in place by his father. After being strapped and taped to his chair by his mother, he scratches her hand. She then slaps her child across the face.
In 2005, Carly (Elisha Cuthbert) and her boyfriend Wade (Jared Padalecki) with her friend Paige (Paris Hilton) and Paige's boyfriend Blake (Robert Ri'chard) are on their way to a highly anticipated football game in Louisiana. Eventually, Carly's delinquent twin brother, Nick (Chad Michael Murray) and his friend Dalton (Jon Abrahams) also join them. Night falls and the group decides to set up camp for the night. The campsite is later visited by a stranger in a pickup truck who shines his lights at the campsite, but refuses to leave or address them until Nick smashes a headlight with a bottle. The next morning, Carly and Paige go exploring, Carly falls down a cliff and lands in deer remains and sees a fake hand. Wade's car's fan belt is found to be damaged. The group meets a disheveled, rural man named Lester (Damon Herriman), who offers to drive Carly and Wade to the nearby town of Ambrose to get a new fan belt, while the rest of them go to the football game.
The two arrive at Ambrose, which is virtually a ghost town. Unable to find an attendant at the auto mechanics shop, they wander into the church, disrupting a funeral. There, they meet a mechanic named Bo (Brian Van Holt), who offers to sell them a fan belt after the funeral. While waiting for the services to end, Carly and Wade visit the wax museum, which itself is made of wax and is the central feature of the town. Afterward, they follow Bo to his house to find a proper fan belt. While there, Wade is crippled and stabbed by a long-haired man with a wax facemask named Vincent. Bo grabs Carly, super glues her lips shut and locks her in a cellar. Dalton and Nick arrive in Ambrose to look for Carly and Wade. Vincent meanwhile strips and shaves Wade, then puts him in a chair with a metal contraption on his head which pins his eyes open. Vincent pulls a couple of levers which showers the immobile Wade with hot wax.
Can Wade escape? Will Paris die? Are any of them safe? Oh please…House of Wax isn't really big on plot. It's got your normal set-up that deals with extremely attractive boys and girls ending up in a bad situation. Some live, some die. If you've seen a horror film in the last 30 years, you know how it goes. The movie is slow going and a bit choppy at the beginning but still with it. Even after watching countless horror films over the last few years, I've gotta admit that I've become jaded and can smell things coming a mile away.
So the production team decided to go with that idea and jack it up a notch and tell the audience, OK, you know what's going to happen next, but we're going to make it ugly so you'll jump out of your seat. And casting Paris Hilton was a stroke of genius because for the first time that I can recall a hot female character that people still wanted to see die. And, she did a nice striptease down to her underwear before the bad stuff happened to her. When things get bad, it gets really bad in a hurry. In fact, all the death sequences were quite horrible to watch, yet I couldn't help but feel that the horror movie geek inside of me was very, very satisfied.