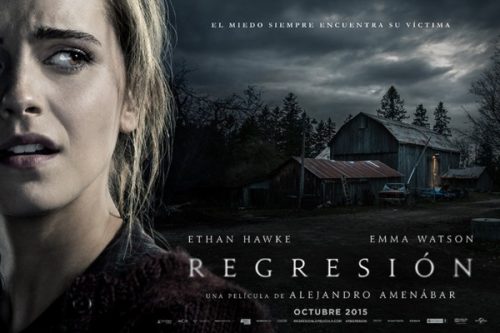 On Monday I watched Regression (2015) in theaters together with a friend of mine. I have been interested in seeing this movie ever since the first official stills were released. Director Alejandro Amenábar has made waves before with the acclaimed supernatural thriller The Others (2001) and the historical drama Agora (2009). I've only seen the former movie and I honestly wasn't too hyped up about The Others, but I still liked it.
The cast of Regression is impressive as both Emma Watson and Ethan Hawke are some of my favorite actors. I was shocked to see this movie was panned by a lot of critics. It currently sits at a jaw-dropping 6% on Rotten Tomatoes. The teaser trailer looked terrific and managed to give away as little as possible about the story. I went in with modest expectations and I ended up really digging this movie. Regression is a suspenseful and well acted psychological thriller that kept me guessing until the very ending. I actually thought it was slightly better than The Others. The acting performances are solid, especially by Emma Watson, Ethan Hawke, David Thewlis, Dale Dickey and Aaron Ashmore. The character development is fantastic and overall one of the strongest elements in the film. The story is excellent, but doesn't come without one or two plot holes.
This movie isn't per definition "scary", but it does feature some creepy images and a couple of startling moments. I loved the mystery that was surrounding throughout the entire movie. The camera work and cinematography are superb and I love the fact that this movie takes place in the 90's. The twist ending was unexpected, but I didn't feel like there was a proper closure. I highly suggest everyone to ignore the critics and watch this movie for yourself. It's not the best psychological thriller you'll ever see, but it definitely earned its stripes and the cast does an excellent job. FYI: Regression won't be released in theaters in America until February 5th 2016.
–Ferdi Akkulak