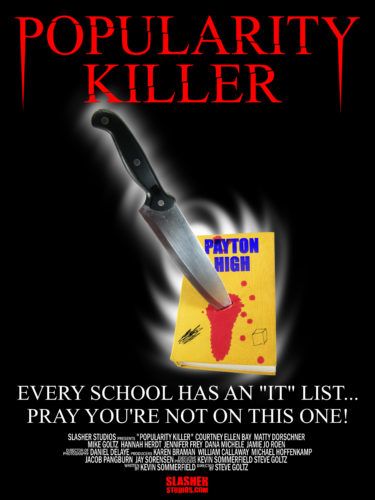 Check out the exciting teaser trailer below for our second slasher hit, "Popularity Killer" and make sure to order a copy today. Supplies are limited so get one while you still can!
Plot Info: "After a young girl is found murdered, a group of teens at Payton High must band together to piece together the horrifying travesty. The teens soon discover the mysterious killer is killing only the most popular students in school. As their friends die one-by-one in the most shockingly gruesome ways possible, they realize that being "in" may not get them out…alive. Every school has an it list…pray you're not on this one."
"Popularity Killer" stars Courtney Ellen Bay, Matty Dorschner, Mike Goltz, Jennifer Frey, Hannah Herdt, Dana Michele, and Jamie Jo Roen. Directed by Steve Goltz and Written by Kevin Sommerfield.
To order a copy click below: