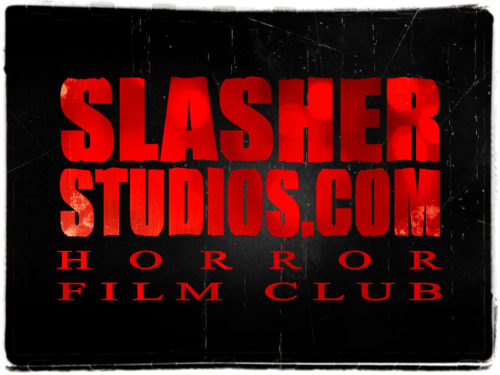 Today for you from Slasher Studios Film Club we have for you a brand new movie and two brand new reviews. This week we are taking on the anthology classic "Creepshow" in all its wonderful comic book style glory! Directed by George A. Romero and written by Stephen King and starring Ted Danson, Leslie Nielsen, Hal Holbrook, E.G. Marshall, Gaylen Ross, Adrienne Barbeau and Ed Harris, the box office hit made over $21 million on a budget of just $9 million. Let's take on "Creepshow!"
Wanna join the club?
Here are the "rules" of our facebook group: Once a week we will select a horror film to watch and review. For that week, all the posts on this page will be related to that particular film. Feel free to post trailers, tv spots, posters, stills…anything you want from the film. MOST IMPORTANT: I want you to post your review of the film. After all, this is a horror club! At the end of the week, I will compile all of the reviews and put them on the Slasher Studios site. So have fun! The only other rule I want to stick to is to only post things related to the film in question for the week. If you have any other questions, feel free to ask! Thanks everyone and let's see this happen!
To join in on the fun:
Slasher Studios Horror Film Club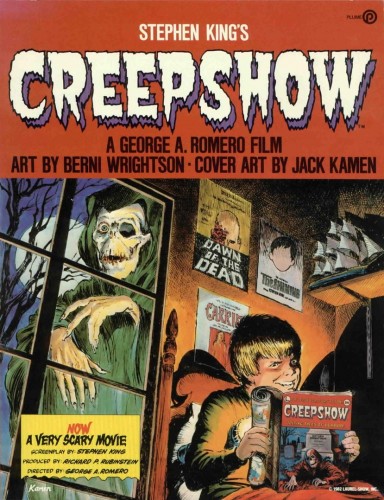 Cody Landman
The biggest plus about being part of this movie club is that a film may be selected that you may have never seen before. Maybe you end up enjoying it, maybe you ended up…not enjoying it. With Creepshow, the outcome for me was the latter.
The film Creepshow has 5 different stories. One story involving a father coming back from the dead for Father's Day cake he never received. The 2nd being about a weird farmer who encounters a meteor who's ooze causes things to turn into plant life. The 3rd involving a raging husband out to seek revenge on his wife and her love. The 4th about a creature terrorizing a college campus. And the final story is about a rich jerk who has an encounter with some cockroaches.
While I enjoy films with multiple storylines, this one just didn't do it for me. The only decent story was the 3rd story with the revenge-seeking husband. The others were just a bit too boring. I didn't expect the stories too be really horrific "Tales From the Crypt" like, but I at least expected a few shits and giggles from them, which I did not receive. The acting was decent though too by a good cast such as Leslie Nielson, Ed Harris, Adrienne Barbeau, Ted Danson, and Stephen King even has a role in it. I can see how some may enjoy this film, but it just wasn't for me.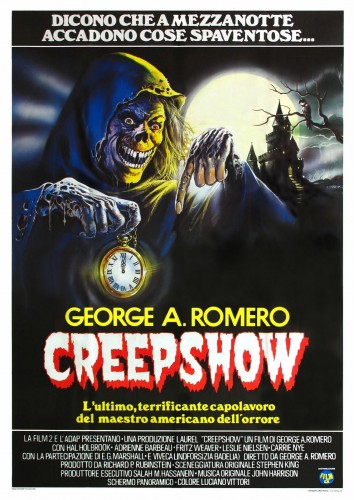 Joshua Dean
Creepshow. The schlock horror fan's wet dream.
Written by Stephen King, directed by George A. Romero, and featuring an all-star cast (led by Hal Holbrook, Adrienne Barbeau, Viveca Lindfors, Carrie Nye, Ted Danson, E.G. Marshall, Leslie Nielsen, Ed Harris, and Stephen King himself!), the film is essentially a spin on the "Tales From The Crypt" comic series and anthology film.
The wraparound story, concerning a boy whose horror-hating father tosses out his favorite comic book, is almost laughable, but somehow, sets a dark, dreary, and creepy scene. The tales are all very much comical and hokey, yet there is a real ominous, spooky feel to the entire film. The strangest thing about the film, though, which, up until the equally fun Trick 'r Treat, hadn't been done since, is that every segment has the same dark, dreary, yet fun atmosphere.
The stories themselves are very basic and predictable, but are crafted so well that they keep you hooked, and the cast is excellent. Adrienne Barbeau shines as the shrewish booze-drenched wife of a respectable, mild-mannered professor (Hal Holbrook); Carrie Nye is deliciously sinister as the matriarch of a money-grubbing clan whose past has come back to haunt them; Leslie Nielsen and E.G. Marshall are wonderfully sadistic and heartless as the villainous leads in their respective stories; and King himself is just flat-out hilarious.
King's writing is not his usual standard, but as this is essentially a tribute to schlock horror, I don't think he intends it to be. Definitely a favorite of mine, Creepshow is one no horror fan (I'm looking at you, Jeffrey Lee!*) should not miss.