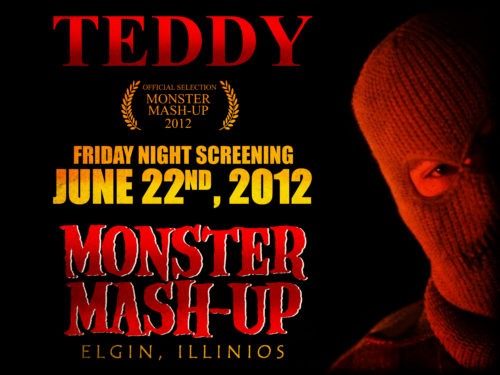 That's right everyone! It has just been announced…Teddy (winner of the Audience Award at Chicago Fear Fest) will be an official selection of Monster Mash-Up June 22nd in Elgin, Illinois. Watch the bloody slasher hit that critics can't get enough of and stay afterwards for a special Q&A by the director, Steve Goltz, and the producer/co-star, Kevin Sommerfield, as they give you the gory details of the making of the hit slasher flick. Below are details of the event taken from the official Monster Mash -Up Facebook page. Hope to see all you boys and ghouls there!
MONSTER MASH-UP
Its a summer, B-Movie Monster themed, Halfway to Halloween party!
Yeah that's a lot to say, but that is exactly why its a Monster Mash-Up!
This is the first time anything like this has ever happened in Elgin. With the success of Nightmare on Chicago Street last year in downtown Elgin, we found out that there are a lot of Elginites, and other folks from around the area that are REALLY into horror!
Why keep them waiting until next October? Lets keep the excitement going all year long!
-Horror/Art/Oddity Dealers and Vendors
-B-Movies playing in the HUGE film room
-Guests/Filmmakers
-Costume Contest
-Zombie Pageant… and…. MORE!!
——————————————————–
Friday, June 22nd
5pm to 11pm
Only $2
Saturday, June 23rd
11am to 11pm
Only $5
Kids under 12 FREE both days!!
Tickets available online soon, and at the door both days!!
ALL LOCATED IN THE HAIGHT BUILDING
166 Symphony Way – Elgin, IL
(Corner of Douglas and Kimball)
——————————————————–