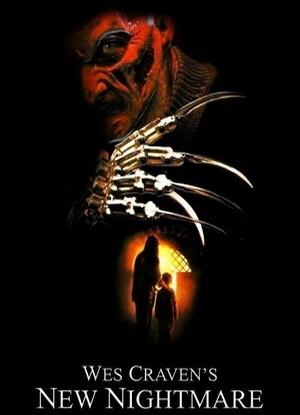 After the somewhat lackluster "Freddy's Dead", Freddy seemed to be dead and buried for at least a few years. It, however, was in 1994 that Wes Craven came up with the radical idea of bringing Freddy back for another nightmare…a "New Nightmare". Gone was funny Freddy and the fresh looking 80′s MTV teenagers and in was a concept so unique and groundbreaking that it just couldn't work? Or could it…. Tim Schilling finds out with a brand new tweet by tweet review of "Wes Craven's New Nightmare."
Thoughts before the film:
Really, really excited to see this one. I saw parts of it a long time ago and really liked it.
Thoughts while watching:
0:03 Yay for Nancy/Heather!
0:10 This movie is pretty crazy already.
0:20 Wes Craven, not doing horror movies? Hah!
0:27 Dylan is so creepy, but adorable at the same time. Just like in Pet Sematary.
0:35 Why would the police say it's an accident when there's claw marks all the way down his chest!?
0:39 They got basically everyone but Johnny Depp back.Just cause Tim Burton didn't make this doesn't mean you can't be in it.
0:49 What if Robert actually is Freddy and just screwing with everyone!?
0:56 I can't remember her name but I love the lady who was in the hospital with them, she was the teacher in the first one.
1:02 Just noticing the huge similarities between this and Scream.
1:05 Basically this movie is the movie Wes has been writing in the movie. Wat.
1:18 All of these nurses are bitches.
1:23 That highway scene was one of the most epic scenes in a horror movie I have ever watched.
1:27 Oh my god, when he turns around in the cop uniform and plays the character again.
1:39 Yes. All of the references to the original.
1:43 Wes you trolled all of us!
Final Verdict:
#NewNightmare was probably one of the most epic horror movies I've ever seen. Awesome story that actually made sense with all the other movies in the series. Super smart, great performances from basically everyone, and perfect music that makes it seem even more epic.
To follow Tim on twitter: https://twitter.com/schillingt
To follow Slasher Studios on twitter: https://twitter.com/slasherstudios