At Slasher Studios we are joined by fellow filmmaker John Miller as he discusses the night that changed his life forever in a brand new Inspiring Scares edition of Slasher Studios.
"I can still vividly recall the final moments of my eleventh birthday party. My father swaggering towards his pickup truck, mullet swaying in the breeze and looking back to announce, "I'm goin to the video store to get some movies."
Hard telling what I got as gifts that year, probably some dollar store action figures and a bunch of lame t-shirts that I never wore. But what I will never forget is the video store haul my pops unloaded on myself and a couple of unsuspecting friends that evening. In those days video stores were split between the pricier new release sections and the economically friendlier older titles that were broken up between genres. Because the craze was to watch the newest releases, our neighborhood store Westcoast Video ran a 3 for $3 gimmick to push the older videos. My father, the cheapskate that he is took the route of the $3 special. A brilliant move in retrospect. The selection that evening was RoboCop (which in itself is a fucking masterpiece), The Lost Boys and The Monster Squad.
One thing you gotta understand about my pops is that he wasn't an educated man and he wasn't a film snob, he was just a blue collar film buff that grasped the effectiveness of keeping tweens entertained with pizza, violence and monsters. We warmed up that evening with Robocop before creeping towards the midnight hour with The Lost Boys.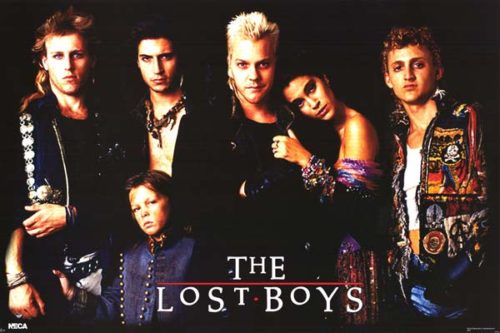 From the moment I heard Echo and The Bunnymens "People Are Strange" playing over scenes of punks and carnies I was hooked. Although familiar with horror at this point I had never really gravitated towards it, preferring comic books, cartoons and demented Fox Television comedies instead. The Lost Boys could almost be considered my gateway drug into the genre. Moreso, it was the moment I said to myself, "damn I wanna do that!"
Although my taste have matured a bit with age, having discovered the likes of Fulci, Argento, Hooper, Carpenter, Craven, Cronenberg, Romero, etc. I still find myself rediscovering The Lost Boys all these years later. I still wish I had made cool friends like The Frog Brothers and the scene inside of the subterranean hideout with the maggots still gets to me. Hell, despite all of the gory, outrageous shit I've seen over the years one of my favorite cinematic moments of all time will always be the initiation scene, which is about as poetically violent as you could ever wish for in a horror film.
I view The Lost Boys as being the type of crossover film that can be enjoyed by a cult movie buff or an average Joe in search of 90 minutes of escapism. That type of appeal isn't lost on me. As an artist, writer and filmmaker I try to be just artistic enough to get my point across but never push it so far as to overreach or come across as heavy handed. The point is to have fun and entertainment value should always come first.
On a side note. Filmmaking isn't the only part of my life that this film has influenced. My dream has always been to find the love of my life in similar fashion as Michael and Star. Gazing across a crowd, smiling, chasing, etc. It's never come to fruition and likely never will, but I did come close once having met stripper in a dive bar called Durty Nellys. Unfortunately had she been a vampire it would have been an upgrade, she even attempted to stab me after a Vodka and Oxycodone binge. But that's a tale for another day.
In the mean time check out my own vampire film, Hennessy x Red."
Latest episode of The Sleaze Box Halloween special

Vampire Short Film
http://www.youtube.com/watch?v=N8F_o5RZwOA