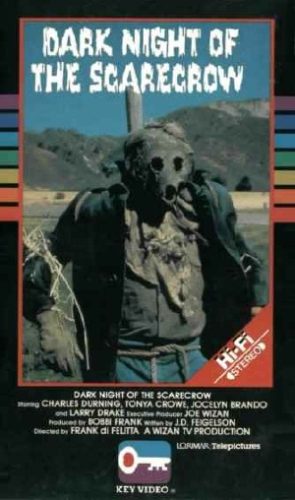 Dark Night Of The Scarecrow is a made-for-TV movie that appeared on CBS in October of 1981. Directed by Frank De Felitta, this film has a lot of heart and will hopefully get more recognition now that it has a Blu-ray release. This very nice HD transfer along with great artwork and a fun and informative insert will be a needed addition to your movie collection, if it already isn't.
The film, with a running time of 96 minutes, tells the story about the friendship between a mentally challenged man and a young girl who befriends him. After a brutal dog attack, the young girl, Marylee is mauled. A number of the towns people automatically assume the her older friend, Bubba, is at fault. Four friends take the law into their own hands and hunt down poor Bubba. Disguised as a scarecrow, Bubba hides out in a field but is tracekd down by the lynch mob and murdered. Sooner than later, the scarecrow appears again…
There are a few good reasons to check this film out. First is the scarecrow mask. It is the perfect amount of creepy and works great within the story. I would love to find this mask someday at a horror convention. Another reason is the filmmaking itself. The colors are vibrant and the cinematography is stellar. It's great to see so much passion go into a film that was produced for the television audience. The acting is spot on and it's a real shame that we don't have made-for-TV movies like this anymore.
So if this film has been on your to-watch-list, by all means move it up to the #1 spot. The Blu-ray packaging is great and I haven't seen that much work go into an insert since the early days of DVD. It's a great story line paired with a great mask and that is always a win-win!