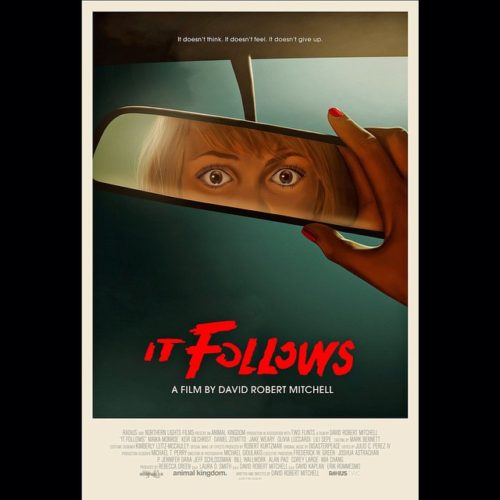 This past Sunday I watched It Follows (2014) in theaters during an early screening. My first movie theater visit of the year! I had been living up to the release of this movie for quite a long time, especially after hearing so many rave reviews about it. Well I have watched It Follows and in my opinion it is one of the best horror movies in years.
It is unique and exceptional in its way of creating suspense rather than creating a body count. The acting performances are outstanding and Maika Monroe pulls off an impressive and iconic performance that instantly puts her on the map. An incredible up-and-coming actress and I'm even more anticipated to see The Guest, knowing she's in it as well. David Robert Mitchell does an excellent job with the directing of It Follows. His way of filming look and feel like something right out of the 70's/80's. Especially the large amount of tracking shots have an eerie and suspenseful effect. In the writing department this movie doesn't fail either, characters are well written and developed and are above all likeable. Besides the thrills and suspense there is plenty of room for the more humor and dramatic moments.
The haunting and memorable synthesized score by Disasterpeace in It Follows is one of the very best aspects of this movie. It really helps with building up the suspense. It Follows offers style and substance, that is a rare occurring to find in a horror movie. From the unnervingly tense opening sequence to the truly original final act, It Follows makes for a viewing experience you won't forget anytime soon. The plot has some holes and some of those plotholes are left to the viewers imagination.
Aside of that, It Follows is a beautiful love letter to old school horror movies of the 70's and 80's. This movie is destined to become a cult classic, if it isn't already. My favorite movie of the year and its a short matter of time before a second viewing will occur. For the best video and audio quality, I highly suggest you watch this masterpiece on the big screen if possible.
Wanna read some more reviews of mine? Visit #FerdisMovieReviews and you can find plenty of more!
–Ferdi Akkulak