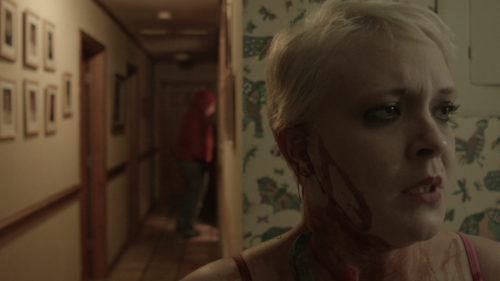 CWM Entertainment's horror thriller "Blessed Are the Children" brings to the screen a new and altogether different film experience designed to scare the wits out of you and make you sleep with all the lights on. With finely drawn characters and a focus on atmosphere and suspense, "Blessed Are the Children" is certain to be THE horror event of the year, harkening back to films such as "Halloween", "Psycho", and "Deep Red".
In the film, Traci Patterson (Kaley Ball), an adrift 20-something who's still reeling from the death of her father and her breakup with an abusive fiancé (Jordan Boyd), discovers that she's pregnant. With the help of her friends, Erin and Mandy (Arian Thigpen, Keni Bounds), she decides to terminate her pregnancy, but quickly after leaving the clinic, she begins seeing and hearing things – shapes in the corner of her eye, strange noises in the middle of the night, and ghoulish figures stalking her every move. Is it simply guilt or are Traci and her friends in grave danger?
Rounding out the cast are David Moncrief, Cheryl Abernathy, Jennifer Wilder, and Michael Kinslow. Chris Moore (Perversion, The House of Covered Mirrors) directs from his giallo-tinged screenplay. Scheduled for the film festival circuit in 2016/2017.
Like the official Blessed Are the Children Facebook page to stay up-to-date on this exciting new indie thriller.