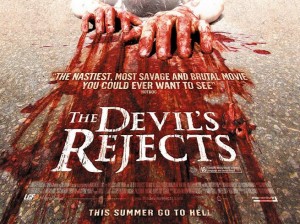 Going into the horror sequel The Devil's Rejects I had no idea what to expect. Not really being a fan of Rob Zombie's first film House of a 1000 Corpses I really wasn't expecting much besides some cool deaths and a lot of gore. Well….I got that and a lot more. The Devil's Rejects is repellent, evil, disgusting, disturbing, and, most shockingly, one of the best horror movies I've seen in the past decade.
Taking place mere days after the first flick, this movie has the Firefly family stalking another group of victims in a seedy hotel. In Ruggsville, Texas, the police under the command of Sheriff John Quincy Wydell attack the house of the sadistic serial killers Firefly family (a.k.a. The Devil's Reject) and they arrest mother Firefly, but Otis B. Driftwood and Baby Firefly escape from the siege. Tiny is wandering nearby the house and also escapes. Otis and Baby call their patriarch, the mad clown Captain Spaulding and they schedule to reunite at an isolated motel in the desert. When Otis and Baby arrive, they kidnap two families of singers, using sadism and violence against the harmless persons. Meanwhile, Sheriff Wydell promises to capture and kill the runaways, seeking revenge for the death of his brother, the Deputy George Wydell.
Words alone cannot describe what all happens on screen. Let's see: A knife to the heart, bullets grazing flesh, a face peeling, a gutted, fully naked young woman, a bashed in head, pieces of a young girl strung along a highway. This is S & M for horror fans. This isn't for all tastes but if you miss the old school horror days of Last House on the Left and Texas Chainsaw Massacre, you won't be disappointed.