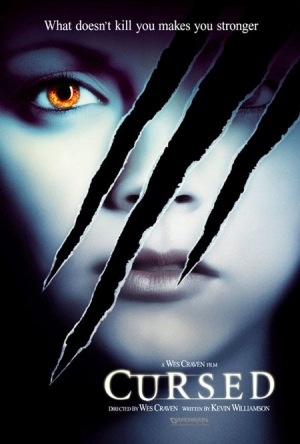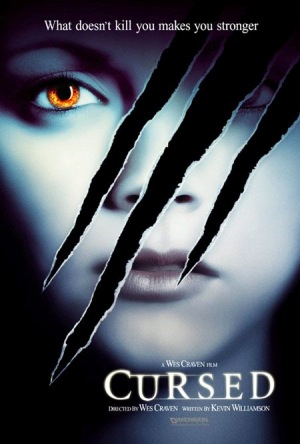 Going into Wes Craven's new horror thriller "Cursed" I had very low expectations. First of all, the movie had been cut fairly severely from an R to a PG-13 and the movie had been retooled for the past two years (Thankfully the DVD is the unrated cut). Not only this but "Cursed" also wasn't screened for critics. All signs point to "Terrible Movie."
The film begins when two friends, Jenny Tate (Mýa) and Becky Morton (Shannon Elizabeth), are at a pier and decide to get their fortune told by Zela (Portia de Rossi). She foretells that they will suffer a horrible fate, but they don't believe her and walk away laughing. A little while later, Becky realizes Jenny has disappeared and can't find her on the pier; Becky was driving. One night, while in a car together, Jimmy (Jesse Eisenberg) and his sister Ellie (Christina Ricci) hit an animal and another car. They attempt to rescue the other driver, Becky Morton, but she is suddenly dragged and eaten by an unknown creature. Jimmy and Ellie are both slashed by the creature's claws. Jimmy starts to believe that the creature was a werewolf, but no one will believe him. He and his sister start to exhibit wolfish tendencies (such as both of them eating raw bacon, Ellie catching a fly in her bare hand, and being attracted to the smell of blood) but Ellie denies it, apparently proving her point by touching a silver picture frame and not getting burned. Jimmy becomes much stronger, as exampled when a bully named Bo (Milo Ventimiglia) forces him to join the wrestling team. He easily defeats three wrestlers, including Bo.
Meanwhile, Jenny is torn apart in a parking garage by a wolf-like creature. Zela's prediction for Jenny and Becky comes true. Eventually, Ellie starts to believe the werewolf idea, and Jimmy proves it when he holds a silver cake server and gets burned (he then discovers that the picture frame Ellie touched was actually stainless steel). He goes to warn Ellie with the help of Bo, who shows up at their house to say he's gay and apparently likes Jimmy. Bo and Jimmy race to where Ellie is, and in the meantime she figures out that her boyfriend, Jake (Joshua Jackson), is a werewolf. He confirms that, but claims it wasn't him that attacked her and Jimmy. Another werewolf attacks, seemingly proving his story. Bo and Jimmy try to help, but Bo is knocked out. But…..who is the werewolf?
Surprisingly, this movie ain't half bad. In fact, it's actually really quite good. What we have here is a fun little werewolf thriller about a brother and sister that get attacked by a mysterious creature and are forced to deal with what they have become. There are some good scares (gotta love the Mya scene in the parking lot) and some surprisingly solid laughs (I loved Christina Ricci's bitchy coworker and the "gay" subplot involving the head of the wrestling team). Not everything works in the film–the ending is a bit overkill and some of the effects are a bit iffy–but overall, I'd say it's definitely at least worth a rental. It isn't a bad way to spend two hours of good, solid creature feature entertainment. Just don't expect an Oscar worthy movie and you'll be fine.