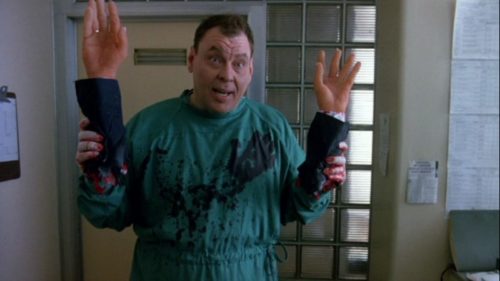 I've always been a big fan of 90's horror and Dr. Giggles did not disappoint. For whatever reason, I have been putting off watching this 1992 movie for a few years now, but finally, the slasher stars aligned and Dr. Giggles was all mine. I found myself very curious as to how this movie would play out for a few reasons. Would this middle aged villain keep my attention? Would the very 90's characters be likable or would I be dying to see their demise. And always a huge turning point for me, would the production value and camera work be able to rival the blockbuster films of its generation?
Dr. Giggles was played by Larry Drake and I found myself loving him more and more as the story progressed. Turns out, his father was a crazy old murdering doctor himself. We fast-forward 3 decades later and after years locked up in the mental ward, Dr. Giggles escapes to terrorize and kill. Needless to say, he needs to work on his bedside manner as a group of classic horny teens begin to fall one-by-one. The doctors bag, white coat, and inventive deaths help create a memorable killer in Giggles. I loved how he incorporates medical tools with each brutal kill. Many are cut-away deaths, but the way they were shot and the creative ways they happened made for some great visuals and may even force some people cover their eyes…but not me of course…
As a whole, the teen characters were fairly likable. The slutty girls were fun, and although nobody in the group was amazing and unforgettable, they all seemed to be able to play the part that they needed to play. The comedy, when it worked, was a nice change of pace every now and then. I enjoyed the condom-in-the-toilet scene and the little brother playing Dr. Mario was pure perfection.
As far as the production value goes, this held up to most of the rival slashers of its time. There wasn't anything that put it over the top, but just all around nice work by the entire crew. The camera work was typical, but a dutch shot here and there was a nice added bonus. So, take the doctors orders and add this to your own must-see-list if you haven't already. Don't be afraid, Dr. Giggles will take good care of you!