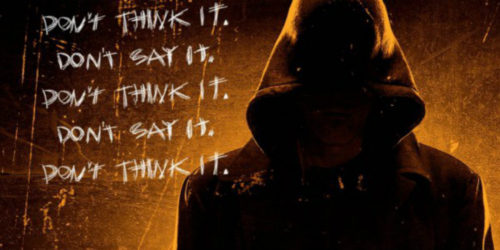 On Thursday I watched "The Bye Bye Man (2017)" in theaters on opening day. This movie is directed by Stacy Title (The Last Supper) and based on the chapter "The Bridge to Body Island" in Robert Damon Schneck's book The President's Vampire. The cast includes Douglas Smith (Ouija), Lucien Laviscount (Scream Queens), Cressida Bonas (Tulip Fever), Michael Trucco (Hush), Jenna Kanell (Misfortune), Faye Dunaway (Bonnie and Clyde), Carrie-Anne Moss (The Matrix), Leigh Whannell (Saw) and Doug Jones (Pan's Labyrinth) as the titular character.
The trailer for this movie made me slightly enthusiastic. The bad reviews were starting to pour in and I was hoping for the best, but fearing for the worst. Let's not forget that this movie went from an R rating to a watered down PG-13 rating – which is rarely a good sign. After seeing The Bye Bye Man there is only one proper word that I can describe it with: generic. The concept had so much potential, but all of that was tossed out of the window when the movie started. The opening is unintentionally hilarious and looked like something right out of a Funny or Die skit. We never learn about the motive behind The Bye Bye Man. The acting performances are a mixed bag. Doug Jones did the best he could with his embodiment of The Bye Bye Man and he's certainly not the reason why this movie failed. The main characters are horribly fleshed out – to the point where I was confused as to who played who.
Douglas Smith could've been so much better here. He isn't a bad actor per se, but this was nothing to write home about. I really liked Carrie-Anne Moss and Michael Trucco in their respective supporting roles of detective and concerned older brother. The former deserved a larger role and the latter was the voice of reason. The rest of the performances are bland and uninspired. This movie is muddled with bad CGI (see: the hound) and the jump scares are non-effective. I was hoping for something original, but instead there are many rip-offs to better movies. The ending is dissatisfying. There were only a handful of things that I liked. This idea deserved a better execution. Worth the price of admission? 💸 Nope.
–Ferdi Akkulak