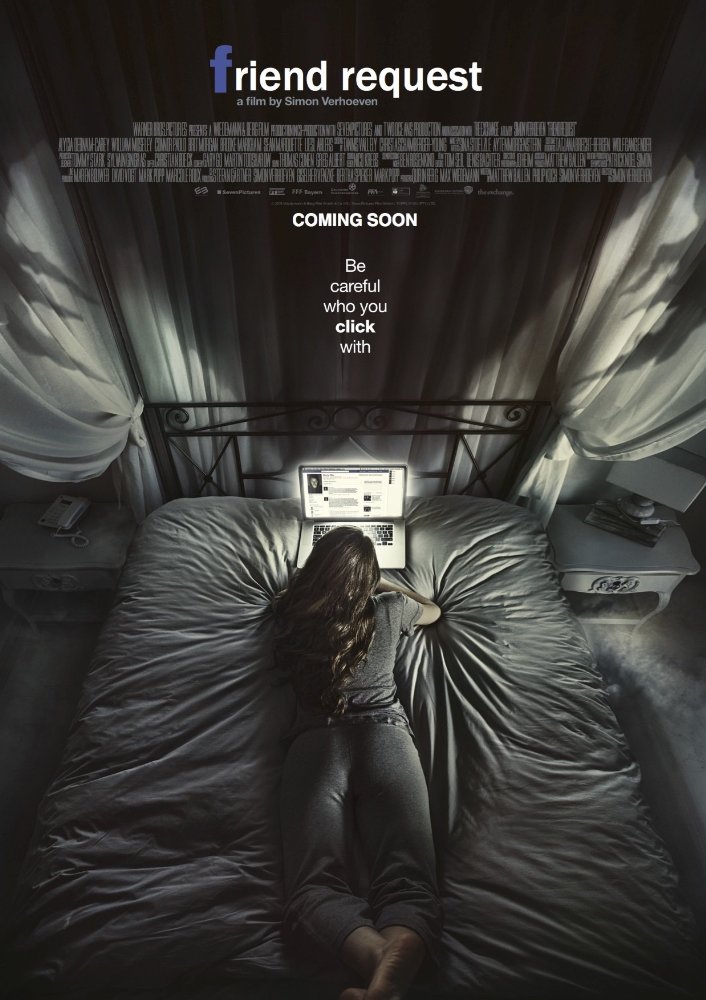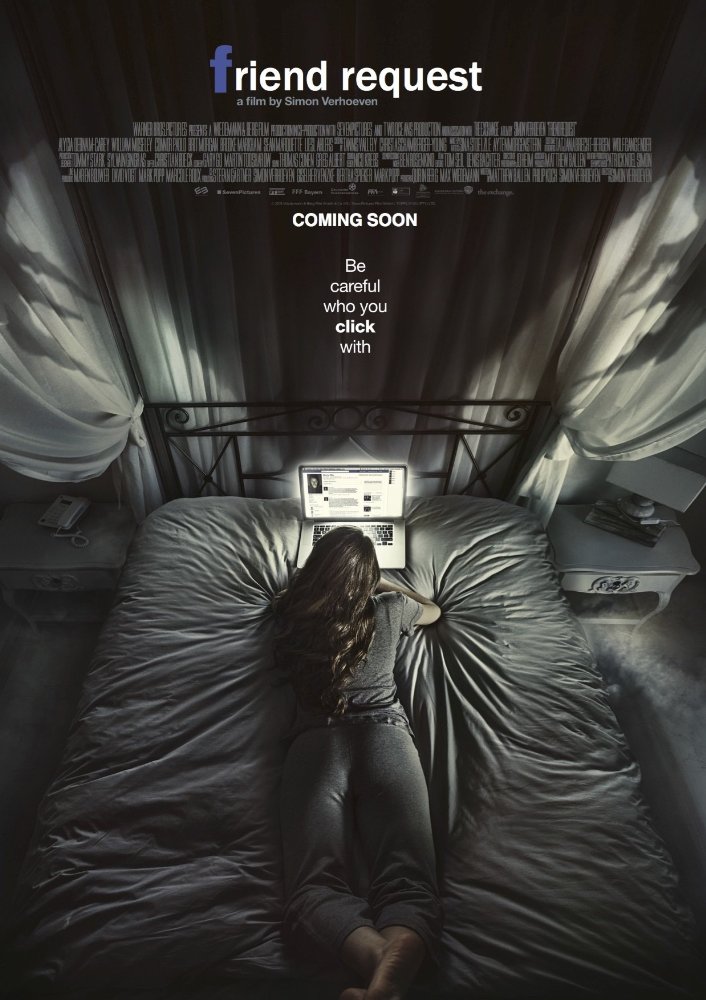 As I pulled up to the theater, I was welcomed by a giant, red poster reading "evil is trending". Solely from that, I assumed I was in for a good time during the new film by Simon Verhoeven (no relation to Paul).
As soon as I was greeted with seemingly hundreds of photos on our protagonist's Facebook account, my assumption was verified. Boasting a very enthusiastic "Thumbs up!" instead of the world-renowned 'like' button, we spend upwards of three minutes staring at a girl's Facebook account and intercutting with footage of her jogging. I was hooked from the first frame.
Laura Woodson (Alycia Debnam Carey) is a young, hip college student living with her friends in an apartment in the city. She soon receives a friend request (don't worry, we get our fill of characters saying those two words throughout the film to remind you that you indeed ARE watching a film called "Friend Request") from a classmate named Marina Mills (Liesl Ahlers). A quiet artist who miraculously has the skills of a Studio Ghibli animator, Marina spends most of her time alone with no friends, and for very good reason.
Soon after Laura politely accepts Marina's request, she finds herself stalked and followed by the obsessive student. As Marina's obsession gets out of control, Laura begins to back off. Following an altercation between the two, Marina then takes her own life and begins to haunt and pick off Laura's group of friends until they can find a way to end her reign.
There is no shortage of hilarity here. With one character's fate left entirely up in the air (despite being a moderately large plot-point throughout the film), devolving into a psycho-stalker Lifetime film in the last act, a college student who I mistook for a character's mom when she appeared on screen, some of the most hilariously expository dialogue I've heard in years, and apparently a psychic reference to Hillary Clinton's "delete your account" tweet, you'll have as good a time as I had.
There is a rating system used by Dave White from Linoleum Knife. There's the half star movie which you should never see, and the zero star movie that you should run, not walk, to see on the biggest screen possible. Although not quite earning a zero, due to a nice lead performance and some interesting shots, Friend Request would fall into the latter category.
Get a group of friends together to enjoy the hilarity of the situations alongside you. Don't be Marina sitting alone in the theater.

–Noah Nicholas Nelson