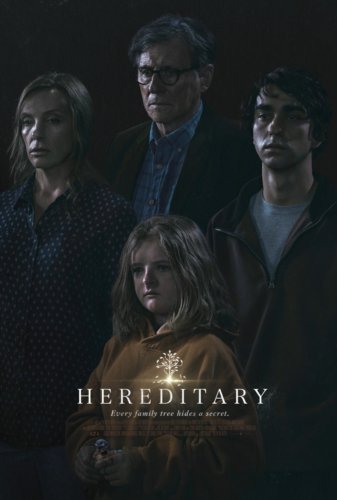 Following the death of her mother, a woman finds her family and life unraveling as one horrific event after another begins to happen to them. As all of this unfolds, she begins to uncover secrets about her mother she never knew.
Hereditary is being raved as the scariest movie as The Exorcist and completely horrific and disturbing. While I can probably understand this for some viewers, this movie didn't really do much for me. After personally being terrified by A24's other horror film The Witch, Hereditary's trailer gave me the same vibes and hopes that this would be just a scary. Unfortunately, this movie really didn't do much for me, however, that's not to say this doesn't feature some pretty horrific and disturbing imagery, it definitely succeeds there. There is a depiction of decapitation towards the end that easily is one of the more horrific things I've seen in horror in a long time. The only thing is, when it comes to the horror, this doesn't occur until roughly around the last half hour or so. Everything prior to that is a slow-building exposition of the family and their troubles. This whole first half to me gives way more exposition than I felt we needed. After a while I grew tired of all the family drama. To be fair, it's all done extremely well and the actors are all fantastic, but it just felt like it took up more of the movie than it needed to. When the horror finally does happen it picks up more and does a good job of hooking you. But at the same time, we have just been watching a dark family drama and when the horror comes, it feels a bit uneven tonally.
As far as the horror goes, it is engrossing, but when everything begins to happen, and especially in the final act, it all feels so familiar and not exactly original. I couldn't help but think about how much of it reminded me of Paranormal Activity 3-6. But to Hereditary's credit, that plot-point works better there. As far as that aspect goes, I feel like they had to pack in a bit too much in order to get to the horror side of things, essentially they over-complicated things more than they should have. All of this aside, I do love how they took the elements of grief and mental illness to help push it towards the horror side, this aspect of the movie is what I loved the most about it.
Finally, we have the performances, Toni Collette knocks it out of the park as the lead, she gets so into character and we see her struggles as the matriarch trying to keep her family and sanity together the best way she can while all of this mayhem is going on around her. Ann Dowd also turns in a great performance as a woman whom Collette meets at a grief counsel meeting. There is something so intriguing with Dowd's character and performance and it's a shame we didn't get more of her, especially towards the end. Newcomer Milly Shaprio stars as Collette's peculiar daughter Charlie. Charlie is also a character who is so interesting and one you want to learn so much more about, which we unfortunately don't get a whole lot of, especially when she's a key point to the story. Alex Wolff was hit or miss as the oldest son, in some scenes he does a great job, but in some scenes he's laughable, but that probably has to do with how poorly he's written as a whiny and bratty child. Gabriel Byrne does a fine job as well as really the only normal member of the family and sells the part of the husband/father at a loss of what to do as his family falls apart.
I can definitely understand why many are loving Hereditary and why many can find it terrifying. Unfortunately, this one didn't do much for me, but I most certainly don't find it a bad movie at all. It has some great ideas at hand, can be pretty horrific, and the acting is solid, but there were issues I had with the tonal balance/transition, the pace of the film, and aspects of the script.
–Cody Landman