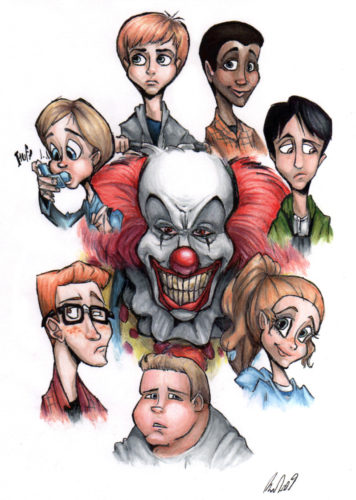 We have a brand new Slasher Studios review today from author Jayme K. Check it out below and make sure to like Jayme's Facebook page and buy a copy of his books. Support indie writing!
Stephen King's IT premiered on ABC in the fall of 1990 and from that moment onward, many children's psyches were scarred for life and kids across the country developed a fear of clowns. Some older horror fans may cite Poltergeist as the reason for their coulrophobia, but for my generation–it was all about Pennywise the Clown.
This two-part television movie is probably the most well known and well liked of Stephen King's adaptations, but 23 years later–does it hold up?
The answer is no. It does not hold up. As a matter of fact, some parts of it are outright laughable. But in 1990, this was scary shit.
Seven childhood friends must reunite and return to their hometown of Derry, Maine to put an end an unstoppable evil force that has begun feeding off of the town's children for the first time in 30 years.
The television movie, adapted from King's bestselling novel of the same name, does a pretty decent job of adapting the most fundamental elements of the story but (of course) is completely and utterly watered down in comparison to the book itself. I can't fault it for not having lepers offering blowjobs, or child gangbangs in the sewer, or a refrigerator full of dead pets (and truthfully, who would want to see any those things?) This was ABC after all–the same network that brought us Family Matters. Considering the budget and content limitations director Tommy Lee Wallace faced, IT is not a bad movie, and certainly not a bad horror movie.
As anyone who has watched the two-parter could tell you, the strongest half is the first 90 minutes. The seven child actors (Jonathan Brandis, Seth Green, Ben Heller, Adam Faraizl, Emily Perkins, Marlon Taylor, and Brandon Crane) really bring their A-game and that's rare to see in any film. They truly show up the seven adult actors (Richard Thomas, John Ritter, Harry Anderson, Denis Christopher, Annette O'Toole, Richard Masur, and Tim Reid) in every way, shape, and form. The two actors that steal the show, however, are Tim Curry as Pennywise and Jarred Blancard as the local bully, Henry Bowers. Everyone goes on and on about how Tim Curry is flawless in the title role, and don't get me wrong–he is. He's the best thing about this movie. But Blancard doesn't get enough credit for his turn as Henry Bowers. He is perfect in the role and absolutely believable.
The movie has its fair share of flaws–such as its use of the book's lackluster ending, poor special effects, and timeline inconsistencies. But ultimately I find these things excusable. It's my belief that a good horror film, over time, does one of two things. It either becomes timelessly frightening or a parody of itself. And IT effectively, and unintentionally, has transcended into parody. That's not to say that there aren't creepy moments, or fine examples of acting, but if you watch the movie lightheartedly and go into it knowing that some moments will be…less than impressive…you'll ultimately find yourself enjoying IT a lot.
–Jayme K.