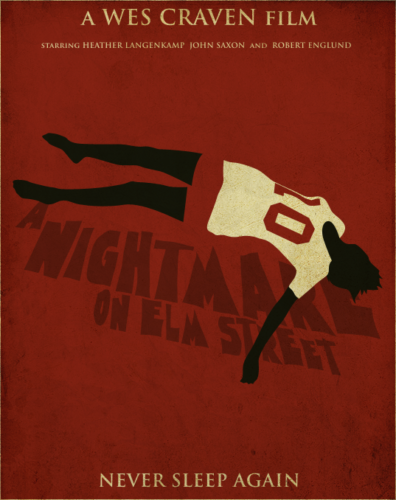 Are you ready for a week filled with "Nightmare on Elm Street" goodness slasher fans? Of course you are! It's one of the best horror series around with innovative deaths and a wonderful grotesque performance by Robert Englund who returned for ALL of the Nightmare sequels. Today we bring you the first installment of the tweet by tweet reviews from Tim Schilling for the original classic. I consider it one of the best horror movies of all time but does he…
Thoughts before the film:
Gonna do the whoooole series over the next week or so, I know y'all are excited for this. First, the original! 1, 2, Freddy's coming for you…
Thoughts while watching:
0:07 I wish Johnny Depp didn't turn into the tool he is today,he's so much better in this than the crap he does now.
0:11 Over acting sex scenes are funny.
0:14 When Freddy makes like an imprint on the wall, that's still such a creepy scene.
0:22 This guy is a total greaser. He'd fit right in The Outsiders.
0:25 Fuckin hall monitors! I'll never trust you again.
0:27 Freddy likes self mutilation a little too much.
0:30 These cops are pretty stupid. How would the guy drag Tina's body to the ceiling?
0:32 First time I'm watching this movie in a while and I realize how many iconic scenes it has.
0:37 Nancy is kinda a tease but mostly a bitch.
0:44 Why do you never listen to us kids?
0:47 After 2 people died, and everyone having nightmares, NOW you have an idea who is killing everyone?
1:03 Nancy is prepared in the coffee department.
1:08 And the best death scene ever goes to….
1:20 I've jumped twice because of this movie, that never happens. I don't know what's with me tonight.
1:22 Freddy is gettin fucked up.
1:29 Geez Freddy stop trollin everyone.
Final Verdict:
#ANightmareOnElmStreet is one of those movies that gets better every viewing. This is probably only my fourth time watching it but I liked it way more than the other times. Creepy scenes, Freddy is freaky, andI even liked the acting. Also, great music (GO 80's!).
To follow Tim on twitter: https://twitter.com/schillingt
To follow Slasher Studios on twitter: https://twitter.com/slasherstudios