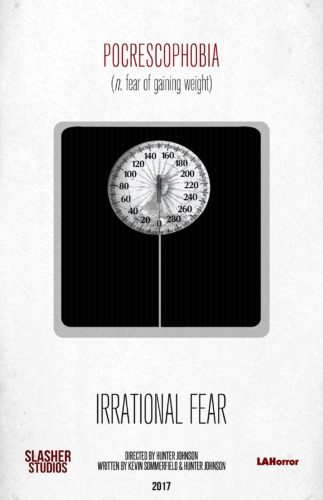 We now have just 26 days left to make it happen for the latest horror feature from Slasher Studios! Our IRRATIONAL FEAR Kickstarter is up and running and we have some killer rewards for you slasher fans. Many of these awesome rewards, including screen credits & limited edition props, will ONLY be available through this campaign. We can't make this movie without your help and we know this is going to be our best film yet!


What's Irrational Fear?
Slasher Studios is teaming up with LA Horror to bring you a slasher style feature that is unlike anything Slasher Studios has ever done before. Titled IRRATIONAL FEAR, the film centers around six therapy patients are brought together at a secluded cabin to confront their strangest fears. Little do they know, these fears will certainly be the death for some of them. Who will make it out alive?
IRRATIONAL FEAR will feature anything and everything you've ever wanted to see in a supernatural style slasher film. Brutal, gruesome deaths that will blow you away, fun characters, and a killer setting will help make this a true fear come true.
If you dug our previous films DONT GO TO THE REUNION, DISMEMBERING CHRISTMAS & 2 JENNIFER, you are sure to have a bloody good time with IRRATIONAL FEAR. We can ONLY make this film with your help so become a backer today and make sure to share the word.
Become a backer today and support indie horror:
IRRATIONAL FEAR KICKSTARTER