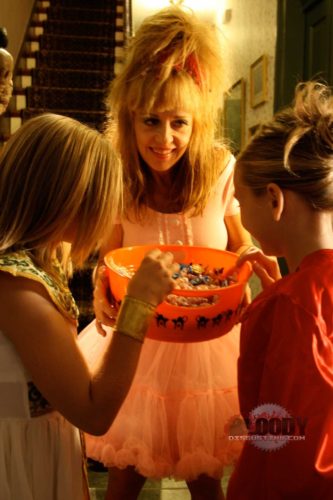 Linnea Quigley was born in Davenport, Iowa, on May 27, 1958, to Dorothy and Heath Quigley. Her mother was a housewife and her father a chiropractor and psychiatrist. After moving with her family to Los Angeles in the late 1970s, the short, blond, petite-sized Linnea began getting work in B-movies, starting with small parts in such films as Stone Cold Dead (1979) and Wheeler (1975). She really garnered attention in The Return of the Living Dead (1985), which has become a cult classic and helped make her the current "Queen of the Bs". Her reign was supreme in the late 1980s with such films as Sorority Babes in the Slimeball Bowl-O-Rama (1988), Night of the Demons (1988) and Hollywood Chainsaw Hookers (1988).
Linnea married special effects wizard Steve Johnson in 1990, but, unfortunately, the marriage lasted only a couple of years. In 2001, Linnea moved to Florida to be closer to her parents who settled there after her father retired from his career and because she wanted a change of scenery. She currently resides in south Florida with her collection of pets (she is a devoted animal rights supporter). Along with films, she still appears at conventions around the world. She has written two books about her life in the B-movie industry, "Bio & Chainsaw," in 1992 and "I'm Screaming as Fast as I Can" in 1995. After 25 years and more than 70 films, Linnea Quigley is still "Queen of the Bs". She is also one of the biggest female stars to ever cross the B-horror movie market.
This week at Slasher Studios, we salute you Linnea Quigley. Thank you for everything you have done to make the horror genre what it is today and keep on rocking as an amazing Scream Queen. Us slasher fans can't wait to see what you come up with next.