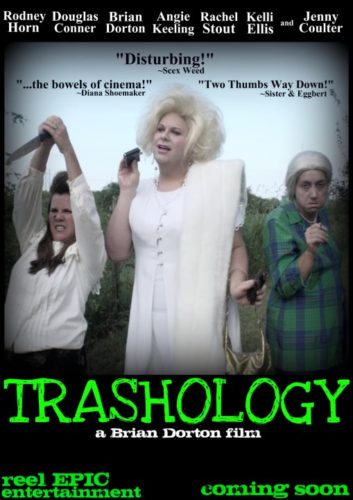 I guess you could say Trash Cinema is a bit of an acquired taste. Not everyone fan of film can fully appreciate the blood, sweat, vomit, and other bodily fluids that go into making a true Trash Cinema gem. With the death of the drive in and multiplexes popping up in suburbian America everywhere, it is a dying subgenre of film that hasn't been visited in quite sometime. When I received word of a new Trash flick from filmmakers Brian Dorton and Douglas Conner, I jumped at the opportunity to review it. In the world of bland PG-13 horror movies and remakes, Trashology sounded like a breath of fresh, vomit infused air. Imagine the most twisted episode of Strangers with Candy you've ever seen, mixed with some early John Waters, and sprinkled with a dash of Troma. If that sounds like the perfect cocktail to you, Trashology is the movie you've been waiting for.
The anthology flick begins with a wraparound story as we meet Tracy (a sweet but deliciously cynical Laura Lee Black). Tracy is a middle aged woman going to college to become the next underground Trash filmmaker. After giving her film professor oral sex for arriving late for class, she finds herself with a "Trashology" book full of stories featuring sex, violence, and just about every bodily fluid imaginable. Is Tracy ready for the journey into utter madness and will this help her become the next great Trash Cinema cult leader?
In the first story titled "The Vat" we meet Beatrice (Jenny Coulter) and Laura (Rodney Horn). Imagine Mink Stole as a 65 year old cranky, nicotine addicted spitfire and you have an idea of who Beatrice is. As for Laura, imagine Mrs. Fine from The Nanny cranked up to 11 with a delightful, mean spirited sense of humor. The duo are met by religious fanatic Claudia (Angie Keeling) who is severely pissed off she got ripped off at 25 cent Banana Wednesday. After a bit of a mix up, Claudia ends up dead and Beatrice and Laura are forced to bring her back using an Oujia board. By far my favorite segment of the film, "The Vat" features a knock out performance by Horn as the delightfully kooky Jewish woman Laura. I really can't say enough about Horn's performance as he had me laughing with every line that came out of his mouth. Coulter and Keeling are wonderful too and the trio are so off-the-wall and nutty that I would love to see an entire feature wrapped around these three characters.
Next up, we have "Big Debbie" as we meet a rather large woman in her wedding dresses crying as she is walking down the street holding snack cakes. Debbie (in another delicious performance by Horn) has just been stood up on her wedding day. She meets a young man on the street who offers her a shower back at his place to clean up. When she arrives at his apartment, his friend is waiting for her and the twosome plan to use her for some rather kinky sexual games. When one of the two men end up dead, Debbie is forced to get rid of the body. Little does she know an angry lesbian (Rachel Stout) bent on revenge has seen her and wants to get some justice of her own. This story is a lot of fun and doesn't quite play out the way that many viewers will be expecting. Less grotesque than the first story, this installment still feels like a wildly over-the-top and gaudy episode of "Tales from the Crypt" meets Very Bad Things. No…I mean that in a good way!
In our final story, the amusingly titled "Inglorious Bitches", we meet Katrina and Melissa (played in wonderful, go-for-broke performances by Dorton & Conner), a pair of female vigilantes who discover a cell phone application in which they are able to track down sexual predators in their area. Hidden secrets and a nice twist ending put a smile on my face through this entire installment. While this story runs a little on the long side (at least a few minutes could be trimmed as the story becomes a little repetitive), it features the same spirit of the other stories with an attitude that perfectly fits the style of films such as Pink Flamingos and Desperate Living.
"Trashology" isn't a film for everyone. If you can't handle vomiting, diarrhea, female masturbation, and gratuitous nudity..this film probably isn't for you. Nonetheless, if you've been waiting for that perfectly trashy flick to offend your friends and shock the neighbors, "Trashology" is the cinematic obscenity you're looking for. It's rude, crude, and over-the-top. Something tells me John Waters would be proud. Long live Trash Cinema!