To close the weekend, we have a brand new Inspiring Scare for you slasher fans out there. We have discussed Joston "El Rey" Theney's film AXEMAN AT CUTTER'S CREEK previously here at Slasher Studios and we are proud to bring you Theney's Inspiring Scare.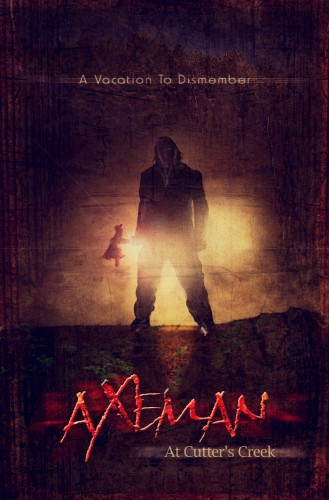 At the behest of horror filmmaker and webmaster of SlasherStudios.com, Kevin Sommerfield, I've been enlisted, along with some of the greatest up-and-coming filmmakers, to do a brief write up of the horror film that launched my interest in horror filmmaking, or should I say my plunge into depravity, lol. Now, I've seen a great many horror flicks in my day – (Cunningham's) Friday the 13th, (Lynch's) Prom Night, Happy Birthday to Me, Sleepaway Camp, (Zarchi's) Day of the Woman "I Spit on Your Grave", (Romero's) Dawn of the Dead, Suspiria, (Craven's) Nightmare on Elm Street, (Carpenter's) Halloween, etc – but going back as far as I can remember to the first one that left a lasting impact, I would probably have to say it was none other than the 1985 film THE MUTILATOR.
Not widely known as a film that changes lives – or is even really that good, Buddy Cooper's little gem of a horror film has one incredible, iconic moment. Anyone who has ever seen this film in it's unrated glory has probably walked away with the same image – a fisherman's hook, and what it does to an unsuspecting female victim. It was the first time I remember gasping in fear and glee simultaneously. Growing up in the inner city and experiencing life in its rawest form, it made being surprised and/or terrified nearly impossible. And at that point I definitely hadn't felt a sense of "uh-oh" and "yeah" in a horror film simultaneously. Creatively utilizing the hard shadows of our film's killer and his victim . . . and his weapon, the filmmaker shows a type of gruesome mutilation that has yet to be replicated, at least as far as I know.
Slashers got off to a great start in the late 70's, but by the mid-to-late 80's, they had become formulaic, by-the-numbers and every other popular phrase we have for predictable . . . and this one was no different. Well, a little. Instead of "spring break," Buddy Cooper gave us . . . wait for it . . . "fall break." Yeah . . . I know. But at least he gave us the iconic moment that launched my interest in horror filmmaking. Or should I say my plunge into depravity. Thank you Buddy Cooper for THE MUTILATOR! Without it, my upcoming slasher AXEMAN AT CUTTER'S CREEK probably wouldn't exist.
Bloody Best,
Joston "El Rey" Theney
To check out more information on AXEMAN AT CUTTER'S CREEK, check out the official Facebook page:
https://www.facebook.com/AxemanAtCuttersCreek