Kevin: Prom Night III: The Last Kiss continues that story of Mary Lou Maloney (the very beautiful and quite voluptuous Courtney Taylor), the vengeful spirit from Hello Mary Lou: Prom Night II, who is still haunting the halls of Hamilton High. She is a lonely ghost who is looking for a little bit of love and romance. Into her life walks Alex Grey (the bland but quite likeable (Tim Conlon), the painfully average high school junior who is looking for a little bit of excitement in his life. Little does Mary Lou know that Alex already has a girlfriend, Sara (played by underrated Scream Queen Cyndy Preston), and will do whatever it takes to get her our of his life.
Steve: The story if nothing too unique or too convoluted that would cause the audience to lose interest in the film. We are given the classic love triangle and some jealous girls that help make this film into and interesting watch. Prom Night III set out to be a comedic horror movie and succeeded all around. Nothing too pretentious here.
Kevin: Prom Night III: The Last Kiss is an interesting blend of comedy (very broad Student Bodies style splatstick) and horror, slasher and supernatural, and tongue-in-cheek and clever. It is mostly a lot of fun to watch and Taylor delivers some great zingers as Mary Lou. At 97 minutes,
the film is a bit on the long side. At least ten minutes could have been cut from the final act within losing anything storywise. That said, it is consistently funny and quite often very entertaining. The production values are solid throughout and the script is helped out immensely by a game cast that appears to be having just as much fun as we are.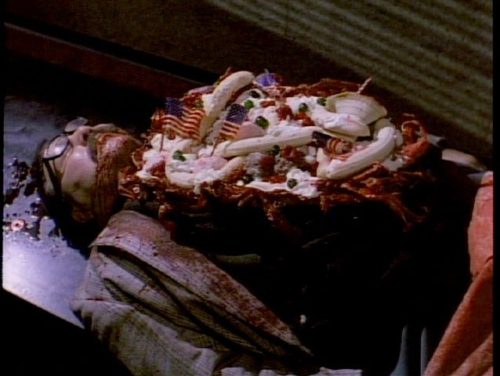 Steve: The comedy found within Prom Night III may not suit every movie-goer, but I found the silly, yet oh so clever jokes to hit each and every time. There are some fun shots as well, like when Alex uses the pay phone to call his parents. He doesn't necessarily address the audience, but he does look directly into the camera and while you have this on your mind, you then here the Charlie Brown like voices come from the phone. A great sequence to say the least.
Kevin: Please note, if you choose to watch this film (and it is indeed recommended), the DVD version released in a double feature DVD along with Prom Night IV: Deliver Us from Evil is a cut TV broadcast version. Most of the gore, swearing, and nudity is all but removed. However in the VHS version it is uncut, with all gore, profanity and nude scenes left intact.
Steve: Please, if you have not seen this, I urge you to do so. Like I said, the comedy may be hit or miss depending on your taste, but it is a must for the true horror fans in the world! So, search for that elusive VHS tape today and have some go wild with Prom Night III.
To purchase Prom Night 3: The Last Kiss from Amazon: Prom Night III: The Last Kiss [VHS]