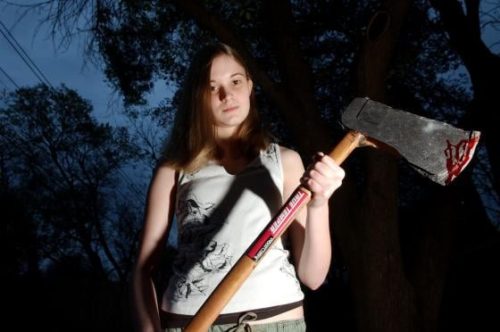 In all actuality, my chosen "Woman of Horror" has only technically been a woman for a little more than 3 years now. And even though she hasn't done a slasher film (yet), her films are highly infused with elements from the horror genre. Emily Hagins first came to my attention when I stumbled upon a charming documentary entitled Zombie Girl: The Movie while surfing through Instant Streaming titles on Netflix a few years back.
I was immediately hooked by the premise of the film, which chronicles a 12-year-old girl experiencing the ups and downs of making a feature-length zombie film. Yes, you read that correctly. She was 12-years-old at the time. In the 365 days I spent being 12, I didn't do a damn thing other than pick my nose, ride my bike and play SEGA Genesis and here's Emily Hagins writing, producing, directing and editing a feature-length movie.
The documentary itself was extremely entertaining as it introduced me to this ambitious little kid who spends the better part of two years making a zombie flick entitled Pathogen. With tons of help from her extremely supportive mother, Emily tries to stay focused on seeing the film through to the end despite endless setbacks and an inability to fully understand the determination and responsibility one needs to accomplish such an endeavor (remember, she was only 12). After it was finished, I found myself overwhelmed with an odd sense of inspiration from this little girl and decided to keep tabs on her as she continued her pursuit of becoming a legitimate filmmaker.
Known as "The Movie Girl" since the 2nd grade among her fellow students, Emily credits Lord of the Rings: The Fellowship of the Ring as the film that made her want to make movies herself, but it was the 2003 Australian zombie film Undead that made her realize her love for the horror genre and motivated her to start writing her own aforementioned zombie movie.
Pathogen wasn't completed until Emily was 14 years old, making the entire process a two-year ordeal. Even though she has publicly stated that she isn't entirely happy with the end result, she is still proud of the film and looks back on it as a wonderful learning experience. Not three years later, a 17-year-old Emily started production on her second feature, a supernatural thriller titled The Retelling. The film was intended to be much darker than Pathogen and absent of any comedic elements.
Now, I haven't seen this film yet, mostly because Emily refuses to let anyone see it outside of the cast and crew. I'm not entirely sure why either, the trailer is available to watch on YouTube and even though there are amateurish qualities present, it looks like a vast improvement from her directing work on Pathogen. Nonetheless, she has placed the film "on the shelf indefinitely." Her choice as a filmmaker, I guess.
Two years after The Retelling, a determined Emily set forth to direct her third feature, which would go on to become her most well-known film to date. My Sucky Teen Romance was a lighthearted spoof on the Twilight films and told the story of a young high school girl and her friends being stalked by a pretty-boy vampire during a horror convention. The film was far from perfect but still charming enough to make for an entertaining watch. It received a buzz-worthy premiere at the renowned SXSW Film Festival in Emily's hometown of Austin, TX, with critical reception being somewhat mixed. You can currently view the film on Netflix Instant Streaming and gather an opinion for yourself if you'd like.
For her latest film, Emily moved away from the horror genre and instead focused on what we all can agree is the next best thing: Halloween. Grow Up, Tony Phillips tells the story of a teenage boy unwilling to give up his love for trick-r-treating. The film stars horror's new leading man A.J. Bowen and, from what I can tell by the trailer, appears to be Emily's most polished work to date. Again, the film premiered at the SXSW Film Festival this past fall to mostly positive reviews with a VOD/DVD release planned for October 2014. Personally, I can't wait to see the film as the Halloween subject matter hits pretty close to home.
So, at the age of 21, Emily has been making movies for the better part of nine years already with four features under her belt, a feat I find incredibly impressive. She has opted out of attending any type of film school and instead has chosen to keep writing her own material and getting movies made herself (with the help of her LA-based agent, of course).
Do I think Emily Hagins is a great filmmaker? No, at least not yet. But there's no denying that her skills have vastly improved with each film she has made and I'm certain that her determination and willingness to succeed will one day get her there. Wherever her career ends up, I think it's safe to say that her overwhelming passion to pursue her dream makes Emily one of the most inspiring writer/directors out there, regardless of her gender.

–Adam Krause