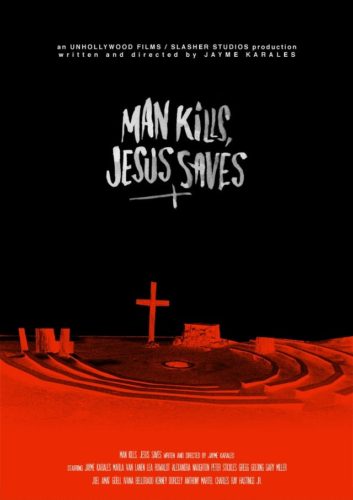 Man Kills, Jesus Saves is the second feature from independent production company UnHollywood Films and the third to come from the award winning Slasher Studios. In 2014 UnHollywood Films completed their first feature film Practice Makes Perfect (set to be released in April 2016). In 2014 Slasher Studios released their award winning cult classic Don't Go to the Reunion and are currently in post-production on their second feature Dismembering Christmas (directed by Austin Bosley).
A tribute to gory 1980s slashers like Friday the 13th and Sleepaway Camp, Man Kills, Jesus Saves can best be described as The Burning meets Wet Hot American Summer. It's been a while since we've seen a summer camp based slasher, or a period piece in the genre for that matter, so let's make it happen!
Written and directed by Practice Makes Perfect's Jayme Karales and produced by Joel Amat Güell (The Hutchcast, The Extractor), Kevin Sommerfield (Don't Go to the Reunion, Dismembering Christmas), Zach Benard (Somewhere Else), and Gregg Golding (Battle Fetish Cosplay Drones), Man Kills, Jesus Saves will enter production in late August, pending the success of this Kickstarter.

"Set in 1988 West Virginia, Man Kills, Jesus Saves centers around a Bible Studies camp for children led by the ever 'hip' youth pastor Duane Sheppard Jr. (Jayme Karales). As he and his collective of Christ-loving youth counselors begin setting up camp for the season, a series of strange happenings occur that rattle the members of the site and, in turn, lead to several murders committed by an unidentified killer.
In the midst of this, Duane and the camp itself face the potential of scandal and condemnation due to long held rumors of inhumane treatment and gay correction therapies surfacing in The Village Voice. Duane struggles to cover up the murders to avoid further bad publicity and attempts to find the killer before things escalate to the point of no return.
Meanwhile, one of the counselors has plans of her own… Aspiring journalist and social activist Elizabeth Kimball (Alexandra Naughton) has decided to take the 'gonzo' approach and go undercover to unearth hardcore evidence that will shut the camp down permanently and thus save lives. However, what she uncovers is far worse than what anyone could have ever imagined…"
For a limited time only you can claim exclusive rewards like signed DVDs and posters, customized illustrations by the film's producer and graphic designer Joel Amat Güell, professional advice from the film's team of writers, and even a walk-on role in the movie. Get involved and help MKJS see the light of day!
Become a backer today and help share the slasher word:
The Official MKJS Kickstarter Campaign