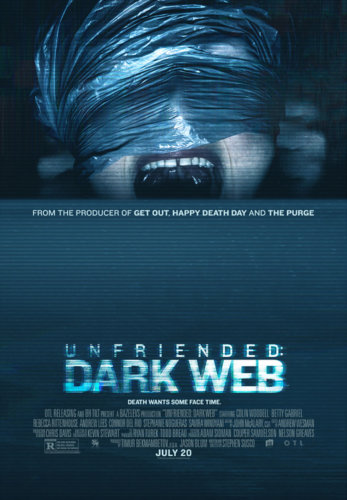 After a young man steals a laptop, he unknowingly puts himself and friends in danger when he discovers the secrets held within the computer and the original owner willing to do whatever it takes to get it back.
The first Unfriended I admit I needed to watch a second time after being disappointed. Upon second viewing, I enjoyed it much more and found it to be an entertaining supernatural slasher film. With this sequel, like its predecessor, it's all on the main character's laptop as he Skypes with his friends, browses the web, and uses Facebook. This aspect in both the original film and Dark Web are still well-done in its appearance. The acting in this film is also extremely well-done, most particularly from Rebecca Rittenhouse as Serena. Sure this movie is much more darker than the first movie, but it's also much more boring, uninteresting, and unengaging. It had some great ideas going for it, but they seemed to make the events happening extremely ridiculous. A better movie depicting a similar concept was The Den. Appearance-wise that film may not be as good, but it gets the point across much easier and wasn't as far-fetched, on top of that it was much more disturbing. Even the movie Ratter was a better film. Both Unfriended movies are supposed to be cautionary tales of the internet and social media, but the original film develops its themes a lot better than this one. As far as characters go, the ones here are just as bland and boring as the film itself, which made me not care about their fate. While the characters in the original weren't likable either, at least we were essentially SUPPOSED to not like them, and even when there wasn't horror happening they were at least entertaining to watch, and even more so during the horror.
Essentially I think this sequel tried to take itself too seriously to the point where it became a bit too ridiculous and they put way too much thought into it. There were points were when the villains appeared on-screen and they turned to static (similar to the segment in V/H/S with the static killer). Maybe I don't know how much power hackers actually have, but much of the stuff that happens via the internet seemed way too over-the-top for me to believe to the point where a plot twist involving the supernatural would have made more sense.
If you want a better film depicting hacking or dark web type of stuff, watch the superior films The Den or Ratter. Both better and much more disturbing. The passable acting and visual presentation do nothing to make this a good film.
–Cody Landman