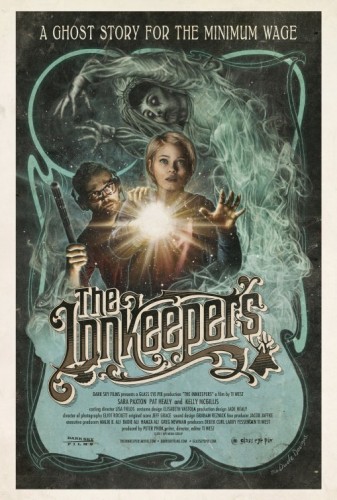 After waiting nearly two years, Ti West's follow-up to his critically acclaimed genre masterpiece, "The House of the Devil", is finally here. Giddy with excitement like a child ready to rip open his biggest Christmas present, my expectations were sky high. The movie just had to be a masterpiece, it had to be a unique, one-of-a-kind thriller, and it had to be perfect. I am one of the horror faithfuls that believes that "House of the Devil" is THE best horror movie of the last decade and this movie had better come close to that sort of greatness. Does "The Innkeepers" reach those lofty heights or does it vanish into thin air like the ghosts it portrays?
"The Innkeepers" tells the story of The Yankee Pedlar Inn. After over one hundred years of service, The Yankee Pedlar Inn is shutting its doors for good. The last remaining employees -Claire (Sara Paxton) and Luke (Pat Healy) – are determined to uncover proof of what many believe to be one of New England's most haunted hotels. As the Inn¹s final days draw near, odd guests check in as the pair of minimum wage ghosthunters begin to experience strange and alarming events that may ultimately cause them to be mere footnotes in the hotel¹s long unexplained history. Along with them for the ride is a actress turned psychic who may know more than she lets on and an old man who will stay in nothing less than the Honeymoon Suite and may have a connection the a devastating murder that took place years before.
"The Innkeepers" is terrifically moody with some of the best cinematography I've seen in a movie in a long time. The Inn comes alive in a fresh way that never feels phony or cheap. The actors are also quite good, particularly Paxton as Claire who is headstrong and determined but also has a shy, vulnerable side. The being said, the movie is a lot a buildup for a conclusion that seems fairly ho-hum. I know people bashed HOTD for the same thing but the ending here seems both too delayed as well as rushed, if such a thing is possible. It all just plays kind of false and lessens the stylish chills of the film's first two acts. I don't want it to seem as if I didn't enjoy this movie. I liked it, in fact I liked it a lot. Maybe it was my fault holding this film up to an impossible standard that no film could possibly live up to. HOTD was a masterpiece, this one is a pretty good thriller. Nonetheless, in today's horror market, pretty good is definitely good enough. Just keep your expectations in check.