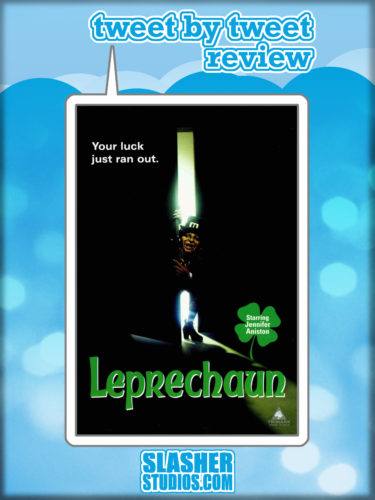 Today for you slasher fans we have a special double feature of the luck of the Irish. First off, we have our resident Twitter reviewer Tim Schilling with a brand new tweet by tweet review for the one and only "Leprechaun." Is it worth your time or has your luck just ran out?
Thoughts before the film:
I've actually never sat down and watched this entire movie. I've only seen parts. Maybe parts is enough. I saw most of three and actually liked that one too but it's been a while. I'll be watching the first 4 over the next week or so. #Leprechaun
Thoughts while watching:
0:10 Continuity people, geez!
0:12 If only Jennifer Aniston was still this young…
0:15 "Oh, you mean this place here?" You mean the house I just watched you walk out of?
0:18 You're like 4 years old, do you even know what beer is?
0:22 Why I'm a leprechaun!
0:28 Ozzy is in the running for the most stupid movie character ever.
0:33 Whoever did the killings is back because they like it it. How did this not win the Oscar?
0:31 Jennifer, you SAW Nathan walk away. How would he get under the truck!?
0:33 A leprechaun on a tricycle is terrifyingly… Funny.
0:37 This dude isn't a leprechaun, he's a vampire.
0:46 He realized he was ugly as fuck.
0:51 Why would you even paint your house that shade of blue…
0:55 But why is it daytime outside when it was just the middle of the night?
1:00 I wish I had a cell phone like that. I didn't even know they had phones back then…
1:02 Come on Jen you met these people just earlier today, don't be such a bitch.
1:05 "me golden delicious gold" why did this not win the Oscar for best screenplay.
1:10 I may have actually just jumped when the leprechaun came through the floor… Don't tell anyone.
1:26 I bet this kid needed to get permission to swear from his parents.
Overall:
At least #Leprechaun was entertaining to watch. It's cornyness is what is going to keep the movie known and talked about and not be forgotten like a lot of 'good' movies are.
To follow Tim on twitter: https://twitter.com/schillingt
To follow Slasher Studios on twitter: https://twitter.com/slasherstudios